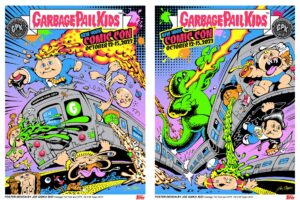 This year's New York Comic Con is upon us, and once again congoers will be able to find a few Garbage Pail Kids items at the show. If it seems like there isn't as much GPK at NYCC, you would be correct. For the first time in years, Topps/Fanatics has refused to promote GPK at this year's show. Numerous email requests to the company from GPKNews have gone unanswered.  We've heard from numerous sources outside of Topps that the company would begin to demphasize GPK licenses, and this may be the beginning of that. What you won't see this year? You won't see a con version of a GPK Horror set. This has been a recent yearly tradition, but it appears there will be no exclusive con GPK sets for sale at the company's booth. There also won't be an artist signing at the Topps' booth this year. Multiple artists offered but were told they weren't needed this year.  So what GPK will be at NYCC?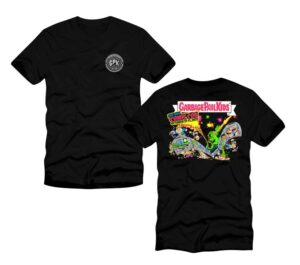 The official NYCC store will once again have two exclusive Blacklight GPK prints done by artist Joe Simko. These 18" x 24" large prints will be signed and numbered, limited to 600 copies of each. The store will also have a t-shirt featuring the same artwork for $35.
Insight Editions (#3418) will hold an autograph signing with Joe Simko on Saturday, 10/14 from 2:00 – 2:30. Joe will be signing promo cards to help promote the launch of the GPK Popup Book. The company hopes to have copies of the book on hand as well.
GPKNews also just learned that cosplay extraordinaire Sam Gras will be at the Topps booth on Saturday, 10/14, in a brand new GPK costume! Which character will it be?
What else? That's all GPKNews has been able to confirm. It's worth it to drop by the Topps booth and ask about GPK. We've heard whispers of possible daily promo cards being handed out at the show. GPKNews has also attempted to reach out to other licensees, but haven't heard back. Will ToyNK have anything? Will the Adam Bomb Fortune Teller be there? ToyNK didn't respond to our email. Will Abrams be promoting the 2024 calendars? Abram's also didn't respond to our email. Will Dynamite Comics be promoting their upcoming GPK comic releases? Wait for it…Dynamite didn't respond to our email. NYCC might have a number of unannounced surprises or be a little barren of GPK this year. Stay tuned to GPKNews as we will bring you info on whatever items do make an appearance.