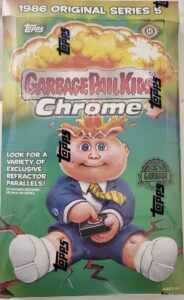 There was once a time GPK collectors had to wait six years in between Chrome releases. Topps has that down to 4 months now. After releasing Chrome OS 4 in August, collectors now get 2022 Garbage Pail Kids Chrome OS 5 as a Christmas present. This puts Topps back on their regular schedule for GPK chrome releases, after seeing delays the last couple of years due to Covid, paper, and printer shortages. This Chrome release highlights the original series 5 release back in 1986. The base set contains 100 cards. All 80 original cards, 167a/b-206a/b appear in the set. The original release contained puzzle back variations, that do not appear in the Chrome release. There are also 20 all new cards done by artists David Gross, Joe Simko, Brent Engstrom, Joe McWilliams, and Neil Camera. Topps however, in a major shift from before, did not number the new cards with the AN# format. Instead, the new cards continue with the regular set numbers 207a/b-216a/b. Topps currently has another GPK Chrome set on the calendar for 2023. If that set is OS 6 then the numbering scheme will turn out to be very confusing for collectors.
The main selling point for a lot of collectors are the parallel cards. This release contains the same chrome parallels found in Chrome 4. Topps however did make changes to the exclusive parallels they advertised on the Chrome 5 sell sheets. Hobby box exclusive parallels are Red, Orange, and Black Wave Refractors. Blaster boxes appear to just have Black and Atomic Refractors as exclusive. Gold refractors were moved from being blaster exclusives to being available in all pack types. It appears there are a number of regular Refractors that were not stamped with "Refractor" on the back. So far, numerous examples of unstamped Refractors exist with cards 179a, 193a, 193b, 204a, 204b, and 209a. There are 22 autos in the set. Tom Bunk signed all 12 cards he painting in the OS 5 set, while all 10 new cards were signed by their respective artists. For Chrome 5 autos there is no a or b number, just one card number for each one. However, some of the artists have reported they signed cards with different puzzle backs for their cards. So there may be variation auto cards in packs. There are also No Blue Ink short print variations listed on packs, however as of this writing none have surfaced. **Update: Hours after this article went live the first No Blue Ink short print surfaced.**
Perhaps the biggest error Topps made with this release was on the pack wrappers. Nearly all the odds on all pack types appear to be incorrect. What is printed on the packs and what is actually coming out are drastically different. For Hobby odds, parallels are dropping at about 1/2 the rate of the odds. Case break examples are averaging 2-3 parallels per box, where the pack odds say there should be 4-5 per box. Blaster boxes are the exactly opposite. The odds printed on the packs are so inflated that collectors should only be pulling 2-3 total parallels for a 40 box case. Thankfully, that isn't the case as real life examples show 20+ parallels per case. Hanger odds are also equally inflated, although more real life examples are needed to confirm. Odds for the exclusive parallels, refractors, Atomics, and C cards are the only ones that seem to have a chance at being correct for all pack types.
So, what does this mean for production? It appears production is up quite a bit from the already inflated Chrome 4, but by just how much? This set is going to be the toughest to try to determine productions numbers. There will need to be multiple real life case break examples to see trends before production assumptions can be made. GPKNews will dig into this with a production article once enough examples exist. To see the official Topps checklist click here. For now here is what you can find and where you can find it in 2022 Garbage Pail Kids Chrome OS 5.
(Note: I will continue to update this post as new information comes to light and any new parallels/inserts are found.)
(Note #2: Most of the odds listed below are incorrect.)
Base Set –  (100 Cards).

OS 5 167a/b – 206a/b (80 Cards)
New Art 207a/b-216a/b (20 Cards)
Parallel Sets – Same exact cards from the Base set, except with a different color border or background pattern.

Refractor – 1:3 Hobby/Blaster/Hanger (100 Cards)
Atomic Refractor – 1:2 Blaster (100)
Green Refractor /299 – 1:757 – Blaster Pack, 1:1,152 – Hanger, 1:42 – Hobby (100 Cards)
Green Wave Refractor /299 – 1:757 – Blaster Pack, 1:1,152 – Hanger, 1:42 – Hobby (100 Cards)
Yellow Refractor /275 – 1:824 – Blaster Pack, 1:1,253 – Hanger,1:45 – Hobby (100 Cards)
Yellow Wave Refractor /275 – 1:824 – Blaster Pack, 1,1253 – Hanger, 1:45 – Hobby (100 Cards)
Purple Refractor /250 – 1:1,268 – Blaster Pack, 1:808 – Hanger, 1:49 – Hobby (100 Cards)
Purple Wave Refractor /250 – 1:1,268 – Blaster Pack, 1:808 Hanger, 1:49 – Hobby (100 Cards)
Prism Refractor /199 – 1:1,139 – Blaster Pack, 1:1,731 – Hanger, 1:62 – Hobby (100 Cards)
Prism Aqua Refractor /199 – 1:1,139 – Blaster Pack, 1:1,731 – Hanger, 1:62 – Hobby (100 Cards)
X-Fractor /150 – 1:1,511 – Blaster Pack, 1:2,297 – Hanger, 1:82 – Hobby (100 Cards)
Black Refractor /99 – 1:186 – Blaster (100 Cards)
Black Wave Refractor /99 – 1:107 – Hobby (100 Cards)
Gold Refractor /50 – 1:6,374 – Blaster Pack, 1:4,024 – Hanger, 1:248 – Hobby (100 Cards)
Rose Gold Refractor /25 –1:9,082 – Blaster Pack, 1:13,735 – Hanger, 1:496 – Hobby (100 Cards)
Orange Refractor /75 – 1:141 – Hobby (100 Cards)
Red Refractor /5 – 1:2,095 – Hobby (100 Cards)
Superfractor 1/1 – 1:78,947 – Blaster Pack, 1:35,917 – Hanger, 1:12,406 – Hobby (100 Cards)
Printing Plates – 1:1,382 – Blaster Pack, 1:52,653 – Hanger, 1:3,101 – Hobby (800 Total Plates – 4 per card A & B)
Insert Sets – All the various insert subsets that can be found in packs.

C Name Variations – 1:100 Hobby/Blaster/Hanger (50 Cards)
No Blue Ink Short Print – 1:1,986 Hobby/Blaster/Hanger (50 Cards)
Artist Autograph /50 – 1: 457 – Blaster Pack, 1:1,391 Hanger, 1:1,392 Hobby (22 Cards – 167a, 174a, 175a, 178a, 180a, 181a, 183a, 184a, 185a, 187a, 189a, 206a, 207a, 208a, 209a, 210a, 211a, 212a, 213a, 214a, 215a, 216a)