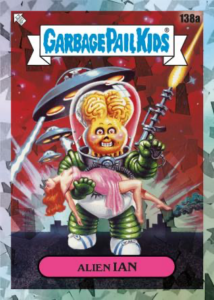 Late last week Topps released Hobby information for 2021 Garbage Pail Kids Chrome OS 4. Today the retail information is out, and there are quite a few changes this time around. With this release Topps will only be offering Value (Blaster) Boxes for the retail store SKUs. The previously offered Fat Packs in Chrome OS 3 are no more. There will be two versions of the Blasters, a pre-priced and non pre-priced Blaster. Each Blaster this time around will contain 6 of the 4-card packs. Each blaster is guaranteed 3 Atomic Refractors. Blasters will carry the usual $20 MSRP, and once again will come 40 to a case. The distributor GPKNews spoke with also mentioned sales of Blasters from Topps will be heavily allocated. It wasn't clear if the allocations are limited to non big box retailers or if the product as a whole will be allocated.
The retail sell sheet once again describes the set as a 100 card base set featuring the 42 original OS 4 characters, along with 6 new paintings done by David Gross, Joe Simko, and Brent Engstrom. C Name variations will also be available in retail, scheduled to fall 1:100 packs. Artist autographs of Tom Bunk and David Burke will also be inserted, with those limited to /50 per card. For the first time in a GPK chrome release, Gold and Black Refractors will be Value Box exclusives. In previous releases those were Hobby only parallels. Atomic Refractors will also return, but this time instead of being wrapped separately in a 3 per box pack, they are advertised as being inserted 1:2 packs. Here is a complete rundown of parallels that can be found in Value boxes.
Refractors – 1:3
Atomic Refractor – 1:2
Green Refractor – /299
Green Wave – /299
Yellow Refractor – /275
Yellow Wave – /275
Purple Refractor – /250
Purple Wave – /250
Prism – /199
Aqua Prism – /199
X-Fractor – /150
Black Refractor – /99 (Value Box Only)
Gold Refractor – /50 (Value Box Only)
Rose Gold Refractor – /25
Superfractor – 1/1
Printing Plates – 1/1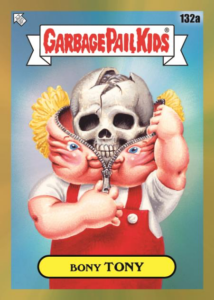 GPKNews was able to obtain come clarifying information on the release date for the product. Topps had sent out conflicting information with the sell sheets advertising the release date as "November 2021", and the case SKU form showing "Week of December 31 2021". Topps told GPKNews the the set was planned for November, but after the sell sheets were approved to send out, the date had already slipped due to production issues. Right now Topps is planning for a December release for GPK Chrome OS 4, with an exact date to come at a later time. The retail sell sheet for 2021 Garbage Pail Kids Chrome OS 4 can be seen below or in PDF form here.