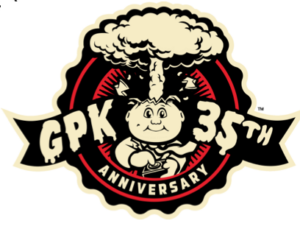 Garbage Pail Kids celebrate their 35th anniversary! Today Topps announced the second retail set of the year, 2020 Garbage Pail Kids Series 2 35th Anniversary. The set is scheduled to once again be 200 base cards, featuring 100 new paintings broken down with a/b versions. Topps appears to be going back to the themes, as the base set will feature 5 themes, Al Grown Up, 35 Years of GPK, Snot Another Anniversary, 135th Anniversary Flash Forward, and Battle of the Decades. Once again the familiar parallel colors are scheduled to be back. Although the sell sheet does advertise back card art as well. All retail packs will contains 1 Booger Green parallel. While Bruised Black  and Bloody Nose Red /75 parallels will  return to Collector packs, Spit Blue /99 parallels have moved to the Retail Display boxes. Fool's Gold parallels can be found throughout all pack types and will be numbered to only /35 this time. Printing Plates and Artist Autos can also be found in all pack types.
Insert cards this time feature "No Ragerts" Temporary Tattoos. These can be found only in Retail Display boxes and are described as GPK inspired temporary tattoos in American Traditional style. GPK Wacky Packages inserts can be found 1 per collector box. These will be Wacky Package styled paintings parodying GPK merchandise. In addition, Collector boxes will contain new Location Relic Cards. These will contain relics from characters locations, like sand from Wrapping Ruth or dirt from Dead Ted's grave. The usually sketch card options will be available. Regular sized sketches can be found in retail pack types, while shaped and Triptych sketches can be found in Collector boxes. Collectors boxes are advertised to come in special Garbage Can Shaped Tins. Finally, the sell sheet also advertises there will be a chance to have a custom GPK created of you!
You can view the sell sheet here in PDF form here, or see below for pictures. Garbage Pail Kids 2020 Series 2 35th Anniversary is scheduled to hit stores 9/23/20.