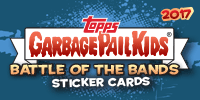 Retail information is out for the next GPK retail set. Topps is returning this upcoming October with 2017 Series 2 Garbage Pail Kids Battle of the Bands. The base set will feature 90 new paintings with a/b versions for a total of 180 cards. The base set will consist of subsets for various genres of music.
Topps appears to be following the same exact format as they did with 2017 Series 1 GPK Adam-Geddon. Once again Fool's Gold parallels (/50), can be found randomly in all pack types. Green Puke parallels will be found 1 per retail pack. Artist Autographs, Regular Sketch cards, and Printing Plates also will be available in all pack types. Although the sell sheet does make note that Regular Sketches are only available in Retail & Display Boxes only, so there is some confusion if those will also appear in Blaster and Fat Packs like usual.
The popular Blaster Boxes return once again. For the forth straight series Gross Bears and Bathroom Buddies return as the "bonus" cards in the boxes. Gross Bears will once again be inserted into SE Blaster boxes according to the sell sheet. Bathroom Buddies will appear in EA Blaster boxes. Blaster boxes will continue with five packs per box. Also returning to Blaster boxes is randomly inserted Loaded Puzzle Sketch cards.
Fat Packs will also return to your local Target stores with this set. These packs are a little more than double a regular retail pack, containing 20 base cards per pack. In addition to containing two Puke parallels per pack, the Fat Packs will come with Classic Rock Stickers inserted in each pack.  These stickers are based on classic GPK musicians in new designs. The sell sheet also confirms that Panoramic Sketch cards will continue to be randomly inserted into Fat Packs.
To view the Retail Sell Sheet, click here. Or check out the pictures below. 2017 Series 2 Garbage Pail Kids Battle of the Bands is set to release in stores on Oct. 18th, 2017.