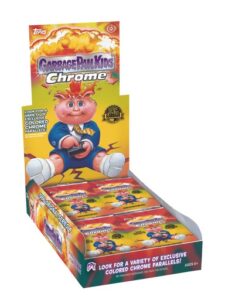 After months of delays GPK Chrome fanatics finally get their wish with the release of 2021 Garbage Pail Kids Chrome OS 4. Sure collectors didn't have to wait as long as they did between Chrome 2 and Chrome 3, but a 20 month wait between releases was tough for some! The newest Chrome release highlights the Original Series 4 set from 1986. The complete base set features 100 cards. All 84 original cards, (125a/b – 166a/b), appear in the set. Topps also included the four original name changes they made half way through printing. The four are additional "b" cards for cards 125b, 149a, 158b, and 164b. (Even though 149a was the replaced card, Topps numbered it 149b in this Chrome series.) The name changes were made to try to avoid potential lawsuits from companies and celebrities who weren't pleased with being a GPK. There are also 12 all new cards, 6 new paintings with a/b versions, (AN1a/b – AN6a/b). Artists David Gross, Brent Engstrom, and Joe Simko all did two paintings each for the set. In a welcomed change from Chrome 3, Topps used the original back card art for this set. Engstrom did the back art for the new cards. Once again, the the base cards feature a silver border.
It wouldn't be chrome without a whole lot of parallels. This set continues that tradition. There are 19 different parallel versions collectors can chase for this release. Each box type has three exclusive parallels. Hobby exclusive parallels are Black Wave, Orange, and Red, while Blaster box exclusive parallels are Black, Gold, and Atomic. Once again, there are also not many inserts to collect, only "C" name and Artist Autographs. It also wouldn't be Topps if there wasn't a slew of errors made within the set. In addition to the weird numbering choice on the 149b name variation, Topps also decided to add an e to the end of the name of card #137a. What is suppose to be Max Axe, is instead Maxe Axe. The error looks to be uncorrected as all versions are the same. Topps also left out an "l" on card 127a. Travellin' Travis is instead Travelin' Travis. Artist Autographs also were the victim of a printing error. All New cards done by David Gross and Joe Simko are not autographed, only Engstrom autos made the cut for the set. Topps was also only able to get former artist Tom Bunk to sign cards for the set. Finally, the odds on both Hobby and Blaster packs for autos, and Blaster packs for Printing Plates are incorrect. Based on production numbers the odds don't work for the actual number of autos and plates inserted into the set. I'll have more on this in a production article in the coming days.
Based on an early look at the odds, production is up quite a bit from Chrome 3. The odds on some parallels and autos will make for some very tough pulls for collectors. I will have articles in the coming days going over production numbers. To see the official Topps checklist click here. For now here is what you can find and where you can find it in 2021 Garbage Pail Kids Chrome OS 4.
(Note: I will continue to update this post as new information comes to light and any new parallels/inserts are found.)
Base Set –  (100 Cards).

OS 4 125a/b – 165a/b (84 Cards)
Name Change Variations 125b, 149b, 158b, and 164b (4 Cards)
New Art AN1a/b – AN6a/b (12 Cards)
Parallel Sets – Same exact cards from the Base set, except with a different color border or background pattern.

Refractor – 1:3 Hobby/Blaster (100 Cards)
Atomic Refractor – 1:2 Blaster (100)
Green Refractor /299 – 1:120 – Blaster Pack, 1:43 – Hobby (100 Cards)
Green Wave Refractor /299 – 1:120 – Blaster Pack, 1:43 – Hobby (100 Cards)
Yellow Refractor /275 – 1:130 – Blaster Pack, 1:47 – Hobby (100 Cards)
Yellow Wave Refractor /275 – 1:130 – Blaster Pack, 1:47 – Hobby (100 Cards)
Purple Refractor /250 – 1:143 – Blaster Pack, 1:52 – Hobby (100 Cards)
Purple Wave Refractor /250 – 1:143 – Blaster Pack, 1:52 – Hobby (100 Cards)
Prism Refractor /199 – 1:180 – Blaster Pack, 1:65 – Hobby (100 Cards)
Prism Aqua Refractor /199 – 1:180 – Blaster Pack, 1:65 – Hobby (100 Cards)
X-Fractor /150 – 1:238 – Blaster Pack, 1:86 – Hobby (100 Cards)
Black Refractor /99 – 1:84 – Blaster (100 Cards)
Black Wave Refractor /99 – 1:100 – Hobby (100 Cards)
Gold Refractor /50 – 1:166 – Blaster (100 Cards)
Rose Gold Refractor /25 –1:1,430 – Blaster Pack, 1:512 – Hobby (100 Cards)
Orange Refractor /75 – 1:131 – Hobby (100 Cards)
Red Refractor /5 – 1:1,951 – Hobby (100 Cards)
Superfractor 1/1 – 1:40,165 – Blaster Pack, 1:12,834 – Hobby (100 Cards)
Printing Plates – 1:915(Incorrect) – Blaster Pack, 1:3,201 – Hobby (400 Total Plates – 4 per card A & B)
Insert Sets – All the various insert subsets that can be found in packs.

C Name Variations – 1:100 Hobby/Blaster (48 Cards)
Artist Autograph /50 – 1:915(Incorrect) Hobby/Blaster (23 Cards – 141a/b, 148a/b, 150a/b, 151a/b, 152a/b, 154a/b, 155a/b, 156a/b, 158a/b/b, AN1a/b, AN2a/b)