Update #2: Article updated to add Walmart.com promo card.
Update: Thanks to Clint Coleman for confirming Triptych sketches are being pulled from Value boxes. It would appear Topps switched the Panos and the Triptych sketches.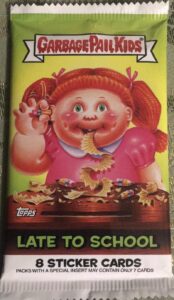 After just a short 4 month break, Topps is back with their latest retail set 2020 Series 1 Garbage Pail Kids Late to School. Change is the key word with the newest GPK set from Topps. First off, the subject matter is entirely new and not based off of real people. This breaks with the prior two years of retail sets. After years of complaints from collectors, Topps is finally starting to listen. Gone are the subsets that started with the 30th anniversary set in 2015. The base set is 200 total base cards, all numbered on the front 1a/b-100a/b. Card back art also finally returns! Card backs feature puzzle pieces, GPK Report Cards and checklists. All these are welcome changes for collectors and things they have been asking for. While there are changes, the basic formula is very similar to the previous set, 2019S2 Revenge of Oh the Horror-ible. Based on odds, production is very high once again, just down slightly from 2019S2. Once again Topps has overstated the odds on parallels by double.
Topps did make a couple of tweaks to the product. Topps increased the print run on the artist autographs. They are all out of /35 now. Pano sketches were suppose to move to Value Box packs. However, collectors busting packs are finding them in Collector boxes.  None have surface from Value packs despite showing up on the sell sheet and pack odds. GPKNews has reached out to Topps for comment on the Pano sketches. This article will be updated if they respond. In another possible interesting update Triptych sketches have not surfaced in any pack type as of this writing. They should be in Collector boxes. Finally, while sketch artist numbers are down, the official Topps checklist is missing three artists who completed sketches for the set. The total sketch artists should be 44.
I will have articles in the coming days looking at production numbers in more detail. To see the official Topps checklist click here. For now here is what you can find, and where you can find it in 2020 Series 1 Garbage Pail Kids Late to School.
(Note: I will continue to update this post as new information comes to light and any new parallels/inserts are found.)
Base Set – 100a/b (200 Cards).
Parallel Sets – Same exact cards from the Base set, except with a different speckled color border.

Bruised Black Border (Black)) – 1:1 – Collector (200 Cards)
Spit Blue Border (Light Blue) /99 – 1:8 – Collector (200 Cards)
Blood Nose Red Border (Red) /75 – 1:10– Collector (200 Cards)
Fool's Gold Border (Gold) /50 – 1:134 – Retail Display/Value, 1:134 – Collector, 1:45 Fat Packs (200 Cards)
Booger Green Border (Green) – 1:1 – Retail (200 Cards)
Jelly Purple Border (Purple) – 1:1 – Fat Packs (200 Cards)
Phlegm Yellow Border (Yellow) – 1:10 – Value Box Packs (200 Cards)
Printing Plates – 1:531 Collector, 1:2,295 Value, 1:2,318 Retail Display, 1:758 Fat Packs (400 Total Plates – 4 per card artwork)
Insert Sets – All the various insert subsets that can be found in packs.

Walmart Promo Card – 1 Per Walmart.com Value Box (1 Card)
Wacky Package Parodies – 1:24 – Collector (10 cards)
GPK Faculty Lounge – 2 Per Fat Pack (10a/b – 20 Cards)
GPK Mascots – 1:3 – Retail Display (5a/b – 10 Cards))
Class Superlatives – 3 Per Value Box (5a/b – 10 Total Cards)
School Pennant Patch Cards /100 – 1:74 – Collector (10 Total Cards)
Collectible Lunchbox – 1 Per Collector Box (4 Total Lunchboxes)
Artist Autograph /35 – 1:61 Collector, 1:260 Retail Display, 1:259 Value, 1:87 Fat Packs (100 Total Cards – 1 per card artwork)
Sketch Card – 1:371 Retail Display/Value, 1:124 Fat Packs (44 Artists)
Shaped Sketch – 1:122 – Collector (44 Artists)
Triptych Sketch – 1:723 (Actually being found in Value box packs.) – Collector (44 Artists)
Loaded Sketch – 1:229 – Value Box (44 Artists)
Panoramic Sketch Cards – 1:4,519 – Value (Actually being found in Collector packs.) (44 Artists)