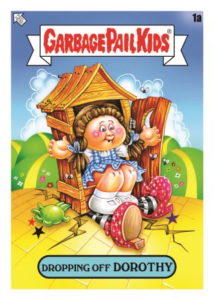 It took a while, but we finally have the Retail Sell Sheet for 2022 Series 1 Garbage Pail Kids Book Worms. Topps is continuing the same retail product strategy as they have with the last couple of sets, with a new twist. Once again, Retail Display and Value Boxes (Blasters) will be offered. However, it appears Topps is adding a new Mega Box that might be a big box retailer exclusive. Each retail pack will continue to contain 1 Booger Green parallel. The brand new parallel Moby Dick Gray /199, Fool's Gold /50, Artist Autos, Printing Plates, and regular sketch cards will continue to be found randomly inserted into all pack types.
Retail Display boxes are once again being sold as both "Retail" and "Hobby" display boxes. Don't let the names fool you as it's the same box type. Once again the Sleep Drool Blue parallels /99, can only be found in Retail Display boxes. The insert set, Authors of Their Own Misfortune can also be found 1:3 retail display packs. The insert features Tom Bunk's take on famous literary authors.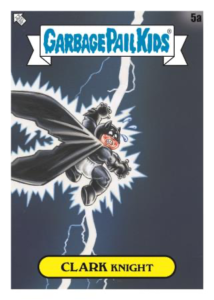 The popular Value Boxes (Blasters) will be back. Each Blaster is scheduled to come with 12 packs. The Glue Yellow parallel can only be found in Blaster boxes at the rate of 1:5 packs. Each box will also contain 3 GPK Gets Graphic insert cards. These will feature new gags based on comic books and graphic novels. Loaded Puzzle and Panoramic sketch cards can also only be found in Blaster boxes.
There appears to be a new box type debuting with the Book Worms set. The sell sheet mentions the Gross Adaptations Insert set can only be found in "Mega Box SKUs". These will feature gags based on books and graphic novels that were turned into movies and TV shows. It appears distributors who usually offer retail products on preorder are not able to order these. Speculation is the Mega box SKU will be a "big box" retail exclusive only. The Mega Box concept is not new to Topps products, as they have been available previously in different products. The Mega boxes generally contain more packs than a Blaster box. This post will be updated as GPKNews finds out more information on the Mega box.
2022 Series 1 Garbage Pail Kids Book Worms is scheduled to be released 7/27/22. You can check out the retail sell sheet below or in PDF form here.