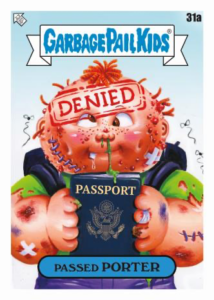 Fresh off the details of this year's chrome set from Topps, comes today's announcement of 2021 Series 2 Garbage Pail Kids: GPK Goes on Vacation. The second retail set of 2021 will feature the now standard 200 card base set, comprised of 100 new characters. The entire theme of the series will be kids on vacation. Many of the usual parallels are set to return. Green parallels will once again be inserted in all retail packs. Black (1 per pack) and Red parallels (/75) can once again be found exclusively in Collector packs. Topps is introducing a brand new parallel, Route 66 Asphalt, those will be numbered /66 and can be found throughout the product. Fool's Gold, printing plates, and artist autographs can also be found throughout the product.
Tom Bunk will make his return to GPK with an insert set called Famous Landmarks by Tom Bunk. These will feature iconic landmarks redone with a GPK twist. Those can be found 1:3 packs in Retail/Hobby Display boxes. Pack You Bags – Wacky Packages will be inserted 1 per Collector Tin. Collector tins will also be the only place to funs State Quarter Relics. These will be /99 and will highlight quarters from all 50 US states. Of course Collector tins will also have a chance at Shaped and Triptych Sketch cards. Regular sketch cards can be found once again in retail packs. Finally, each Collector tin will come with one luggage tag packaged inside. Each Collector tin will also come with artist designed map artwork.
As with the Chrome sell sheets, there is conflicting information on the release date. The sell sheet advertised September 2021, while the case SKU sheets say the set will release the week of Nov. 24, 2021. GPKNews will reach out to Topps for more information. You can view the sell sheets below or they can be found in PDF form here.