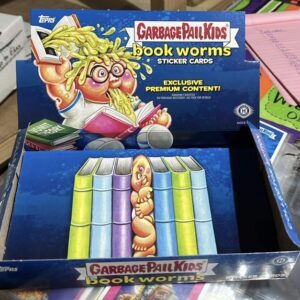 It's been 519 days between releases of a retail Garbage Pail Kids set. During Covid the popularity of trading cards exploded, causing printer and card stock shortages. After months and months of waiting, Collectors finally get a new set to bust, just not the one they were expecting. Perhaps GPK collectors wouldn't even have a product to bust if it wasn't for a contract Topps signed with Walmart for a new type of exclusive Mega Box. Topps had to hit the release date of Book Worms to meet the contract. This caused two sets, 2021S2 Vacation and 2021 Chrome 4, to be temporarily skipped for the first set of 2022. It also caused Topps to cancel the popular Value "Blaster" boxes due to what they said was a shortage of sticker stock. The set itself is the first under new GPK Brand Manager Mark Cruz. Returning are the familiar final card artists; David Gross, Joe Simko, Brent Engstrom, and Joe McWilliams. The familiar 200 card base set formula returns, 100 new pieces with a/b names. In another Topps long tradition, is the return of "Topps math". Once again the odds on the parallels are overstated by double. Despite reported sticker shortages by Topps, production has increased significantly over the previous 2021S1 Food Fight set. I'll have articles in the coming days going over productions numbers.
There were of course plenty of changes in the newest set. Since Topps cancelled Blaster boxes, the GPK Gets Graphic insert set and yellow parallels were also cancelled. Also scraped were Loaded Puzzle and Panoramic sketches, that previously were only found in Blaster boxes. The new kid of the block is the Walmart exclusive Mega boxes. Based on the checklist Topps released for the set, there are two different types of Mega boxes, one found in the card section and one found in the toy aisle. Each contain different Gross Adaptations insert cards. Topps does have an error on Gross Adaptations cards #16-25, those were accidentally printed with an added "a" after the card number. "B" cards do not exist for the Gross Adaptations insert set. Sadly, the new 17 pack boxes are lacking sketches or exclusive parallels. Another big change is the increase in print run of some of the hits. Due to huge increases in production, Topps had to find a way to still have hits in the boxes. Autos are now unnumbered, and artists signed 160 of each card to be inserted into packs. Topps also included for the first time patch cards parallels.
I will have articles in the coming days looking at production numbers in more detail. To see the official Topps checklist click here. (Note: Topps left off B names, Iron-On patches, and sketch artists from the official checklist.) For now, here is what you can find, and where you can find it in 2022 Series 1 Garbage Pail Kids Book Worms.
(Note: I will continue to update this post as new information comes to light and any new parallels/inserts are found.)
Base Set – 100a/b (200 Cards).
Parallel Sets – Same exact cards from the Base set, except with a different speckled color border. (Note: Odds on parallels are overstated by double.)

Inkwell Black Border (Collector) – 1:1 (200 Cards)
Sleep Drool Blue Border /99 (Retail Display) – 1:57 (200 Cards)
Red Herring Border /75 (Collector) – 1:54 (200 Cards)
Fool's Gold Scratch n Sniff Border /50 – 1:726 (Collector), 1:727 (Retail Display/Mega) (200 Cards)
Booger Green Border (Retail) – 1:1 (200 Cards)
Moby Dick Gray (Collector/Retail/Mega) – 1:183 – (200 Cards)
Printing Plates – 1:1,480 (Collector), 1:16,834 (Retail Display), 1:29,166 (Mega) – (400 Total Plates – 4 per card artwork)
Insert Sets – All the various insert subsets that can be found in packs.

Wacky Packages Prose – 1:24 – Collector (8 cards)
Book Marked! – 1:24 – Collector (5 Cards)
Author's of Their Own Misfortune – 1:3 – Retail Display (5a/b – 10 Cards))
Gross Adaptations – 1:2 – Mega Box (1-15 of 25)
Gross Adaptations Exclusive – 1:6 – Card Section Mega Box (16a-20a of 25)
Gross Adaptations Exclusive – 1:6 – Toy Aisle Mega Box (21a-25a of 25)
GPK Patch Card /199 – 1:203 – Collector (10 Total Cards)
Blue Patch Parallel /99 – 1:406 – Collector (10 Total Cards)
Red Patch Parallel /75 – 1:536 – Collector (10 Total Cards)
Gold Patch Parallel /50 – 1:804 – Collector (10 Total Cards)
FoilFractor Patch Parallel 1/1 – 1:38,475 (10 Total Cards)
Iron-On Patch – 1 Per Collector Box (6)
Artist Autograph – 1:35 Collector, 1:228 Retail Display, 1:1,055 Mega,  (100 Total Cards – 1 per card artwork)
Sketch Card – 1:186 Retail Display (59 Artists)
Shaped Sketch – 1:356 – Collector (59 Artists)
Triptych Sketch – 1:2,654 – Collector (59 Artists)