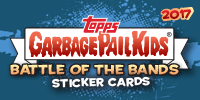 Topps today released the checklist for 2017 Series 2 Garbage Pail Kids Battle of the Bands retail set. Topps has been striving to release checklists earlier, and they came through for the next GPK set. Once again the base set contains 180 cards, (90 a/b versions), this time in 7 different subsets. The Base Subsets are:
Pop Stickers (42 cards)
Classic Rock Stickers (40 cards)
Hard Rock Stickers (18 cards)
Metal Stickers (20 cards)
New Wave & Punk Stickers (20 cards)
Alternative Stickers (20 cards)
Rap & R&B Stickers (20 cards
The rest of the checklist doesn't offer any other surprises, and falls in line with the previous series. Once again, there are 6 Gross Bears, and 6 Bathroom Buddies cards. The Album Covers Bonus Insert set has 10 cards. Not to be confused with the Classic Rock subset in the base set, but the Jumbo Bonus Classic Rock Insert Set contains 20 cards. Finally once again there are 20 patch cards found only in Collector boxes. Here is the official checklist in PDF form.