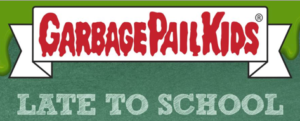 With Monday's release of the Hobby sell sheet for 2020 Series 1 Garbage Pail Kids Late for School, you knew the retail sheet would be too far behind. The info is out, and there are a number of changes being made to where parallels and sketches will be found in the upcoming set. The first set of 2020 will no longer feature subsets. Instead, card numbering is back on the fronts of the cards. The backs will feature new artwork, puzzles, and checklists. Also in a change from recent sets, the subject matter is back to being kids. These cards will not be based on real life people in pop culture. Many of these things collectors have been begging for since Topps drastically changed the way sets were done back in 2015.
Retail Display boxes are back again. The 24 pack boxes will be the only place to find the GPK Mascots insert set. GPK Mascots will feature characters as GPK-inspired school mascots. Fool's Gold parallels (/50), printing plates, and artist autograph cards will continue to be randomly inserted in all pack types across the series. The Booger Green parallels will continue to come 1 per pack. There is a discrepancy on the sell sheet for the green parallels. The sell sheet says they will be found in only Display packs. However, Topps has confirmed with GPKNews that the green parallels will continue to be found in Fat and Value packs. Another change being made is Phlegm Yellow parallels will no longer be in Display boxes. Those will be moving to the Value Boxes. The sell sheet also says regular sketch cards will only be in Display boxes. However, once again Topps has confirmed with GPKNews that the plan is to continue to have regular sketches inserted into all retail pack types.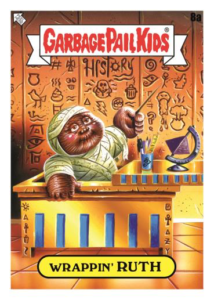 Value boxes are back, and one again will come 40 to a case like with Revenge of Oh the Horror-ible. The tradition of non-traditional packaging for the Value boxes continues. This time each Value box will be shaped like a school. Each Value box will come with three Class Superlatives insert cards. These will be classic characters who were voted most popular and more. As mentioned above, according to the sell sheet the Phlegm Yellow parallels are moving to Value boxes. The sell sheet lists them as 1:5 packs. Which would make them one per Value box. Loaded sketches will once again also be found in Value boxes only. In a strange twist, Panoramic sketches will be inserted into Value boxes as well. Topps has confirmed pano sketches are moving to Value boxes.
Finally, Fat Packs will also be returning. These 22 card packs act as almost a double pack. Each Fat pack will include two Faculty Lounge insert cards. These will be classic characters in their new roles as teachers. Jelly Purple parallels will also be back in fat packs, inserted 1 per pack.
To view the retail sell sheet in PDF click here, or see the pictures below. 2020 Series 1 Garbage Pail Kids Late for School is scheduled to be released 1/15/20.