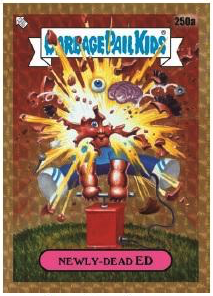 Chomreheads unite, the next set is upon us! Today Topps started announcing Garbage Pail Kids Chrome 6. The new set is based on the originally released Series 6 set from 1986. The base set once again contains 100 cards, all the original 88 cards, (44 paintings), from OS 6 along with 12 cards, (6 new paintings), from current artists. Collectors will find a similar setup as previous Chrome releases. The sell sheet also mentions the card backs will feature all new comics by artist Brent Engstrom. So far only Blasters are mentioned as being available, there are no mention of Hanger packs. Blasters come with six 4-card packs and carry a MSRP of $19.99. There are also 40 blasters to a case again. Once again Atomic, Black, and Gold refractors are exclusive to Blasters. Here is a rundown of the parallels that can be found inside.
Refractors – 1:3
Atomic Refractor – 3 per (Value Box Only)
Green Refractor – /299
Green Wave – /299
Yellow Refractor – /275
Yellow Wave – /275
Purple Refractor – /250
Purple Wave – /250
Prism – /199
Aqua Prism – /199
X-Fractor – /150
Black Refractor – /99 (Value Box Only)
Gold Refractor – /50 (Value Box Only)
Rose Gold Refractor – /25
Superfractor – 1/1
Printing Plates – 1/1
The popular C Name Variations and Artist autographs also make a return for Chrome 6. C name variations are advertised for all original OS 6 cards along with the new versions. Additionally the sell advertises that artist autographs from Tom Bunk and James Warhola will appear in packs. The set was expected to be announced soon, as was previously reported by GPKNews. As with Chrome 5, the retail sell sheet is the fist to surface, the Hobby sheet hasn't been released yet from Topps. Thanks to Jeff Pellegrino from the Garbage Pail Kids Store at Hilltop Hobbies for sending along the sell sheet. Pictures of the sell sheet can be found below, for the PDF version click here. The hobby sheet should be released soon, stick to GPKNews for the latest. Topps has changed the way sets are announced. They now announced sets just about one month prior to release. Leaving a very short window for pre-orders from distributors. We are just over month away as GPK Chrome 6 is set to be release August 18, 2023.