Updated 10/31 – Artist & Employee insert card set updated to 9 total cards in set.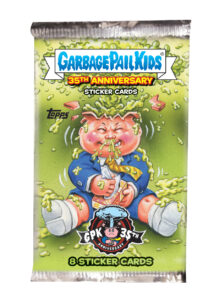 GPK collectors have gone 9 months without a retail release. While that would seem like a lot, Topps has kept them busy with a long year dedicated to the 35th anniversary of GPKs. The retail set celebrating that anniversary is now out. 2020 Series 2 Garbage Pail Kids 35th Anniversary is filled with a number of changes compared to recent sets. Subsets return once again to retail. However, Topps has tempered that with keeping numbering 1-100a/b, and incorporating puzzles, back card art, and checklists. Once again all the artwork for the set was done by David Gross, Brent Engstrom, Joe Simko, and Joe McWilliams. Also, former GPK Brand Manager Colin Walton returns on the set with back card artwork. As usual, Topps struggles with listing correct odds on packs. Once again odds on the parallels are overstated by double. Perhaps the biggest shock collectors will find is the massive increase in production. I'll be running the numbers in a few days, but all indications are this is the largest printed set by Topps since they started using odds. The current pandemic has caused a huge increase in demand for both sports and non-sports cards, and GPK is no exception. The levels of production here are unmatched. A lot of the same formula Topps has been using, is repeated in this set with parallels, inserts, and hits.
There are a few notable changes. The higher production, means Topps has had to increase the print run on hits. Artist Autographs are /50, while the Location Relics are /250. However, the Fool's Gold parallels moved back to /35, perhaps to match the anniversary. Blue Spit borders have moved to Retail display boxes from Collector boxes with this series. There are also some surprise goodies inserted in the packs both listed on the odds, and unannounced. There are redemption cards for OS1 & OS2 packs, along with Be a GPK redemption cards. This is the first time since BNS 3 that Topps has done the Be a GPK contest. Topps also has inserted an unannounced insert set, Artist & Employee cards. Each of the final card artists completed two cards, one of themselves and another of a Topps employee. These cards are numbered SP-#, and are rare inserts in packs. There is also a RL Stine promo card to help promote the recently released Welcome to Smellville book. There are no odds listed on packs for the artist/employee and RL Stine cards.
I will have articles in the coming days looking at production numbers in more detail. To see the official Topps checklist click here. For now here is what you can find, and where you can find it in 2020 Series 2 Garbage Pail Kids 35th Anniversary.
(Note: I will continue to update this post as new information comes to light and any new parallels/inserts are found.)
Base Set – 5 Subsets/100a/b (200 Cards).

All Grown Up (1-20a/b)
Snot Another Anniversary (21-30a/b)
135th Anniversary Flash Forward (31-55a/b)
35 Years of GPK (56-90a/b)
Battle of the Decades (91-100a/b)
Parallel Sets – Same exact cards from the Base set, except with a different speckled color border. (Note: Odds on parallels are overstated by double.)

Bruised Black Border (Black)) – 1:2 – Collector (200 Cards)
Spit Blue Border (Light Blue) /99 – 1:24 – Retail Display (200 Cards)
Blood Nose Red Border (Red) /75 – 1:18– Collector (200 Cards)
Fool's Gold Border (Gold) /35 – 1:317 – Retail Display/Value, 1:317 – Collector, 1:106 Fat Packs (200 Cards)
Booger Green Border (Green) – 1:2 – Retail (200 Cards)
Jelly Purple Border (Purple) – 1:2 – Fat Packs (200 Cards)
Phlegm Yellow Border (Yellow) – 1:10 – Value Box Packs (200 Cards)
Printing Plates – 1:1,281 Collector, 1:3,184 Value, 1:3,184 Retail Display, 1:1,053 Fat Packs (400 Total Plates – 4 per card artwork)
Insert Sets – All the various insert subsets that can be found in packs.

GPK Wacky Packages – 1:24 – Collector (10 cards)
Fan Favorites – 2 Per Fat Pack (10a/b – 20 Cards)
No Regerts Tattoo – 1:3 – Retail Display (5a/b – 10 Cards))
Midlife Crisis – 3 Per Value Box (10a/b – 20 Total Cards)
Location Relic Cards /250 – 1:52 – Collector (10 Total Cards)
Artist & Employee Cards – No odds listed on packs (9 Total Cards)
RL Stine Promo Card – No odds listed on packs (1 Card)
Collectible Garbage Bin – 1 Per Collector Box (2 Total Garbage Bins)
Artist Autograph /50 – 1:111 Collector, 1:249 Retail Display, 1:249 Value, 1:83 Fat Packs (100 Total Cards – 1 per card artwork)
OS1 & OS2 Pack Redemption Card – 1:124,200 Collector, 1:123,888 Retail Display/Value, 1:112,655 Fat Packs (?? Total Printed)
Be a GPK Redemption Card – 1:124,200 Collector, 1:123,888 Retail Display/Value (?? Total Printed)
Sketch Card – 1:481 Retail Display/Value, 1:160 Fat Packs (52 Artists)
Shaped Sketch – 1:127 – Collector (52 Artists)
Triptych Sketch – 1:1,268 – Collector (52 Artists)
Loaded Sketch – 1:314 – Value Box (52 Artists)
Panoramic Sketch Cards – 1:2,590 – Value (52 Artists)