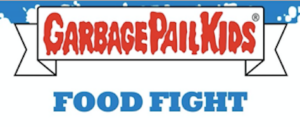 Topps has a lot left on its plate in 2020 as they celebrate the 35th anniversary, but that doesn't mean plans don't continue for the future. Today Topps announced 2021 Series 1 Garbage Pail Kids Food Fight. The first retail set of 2021 will contain 200 base cards, 100 with a/b versions. Topps advertises there will be all-new art and cards backs. They do not go into any details on the theme of any base cards. The familiar parallels collectors are use to will return. Retail packs will contain Booger Green parallels at one per pack. Retail display boxes are also set to have Spit in Your Food Blue parallels /99 randomly inserted. Pepper Black, 1 per pack, and Saucy Red /75, can be found in Collector packs. Fool's Gold parallels /50, artist autos, and printing plates will continue to be found in all pack types.
Insert sets planned for the new set include; You Are What You Eat, GPK characters as food, (Display Boxes), GPK Food Wacky Packages (Collector), Wacky Package Patch Cards (Collector), and Mini Magnets, 24 total (2 in each Collector bonus back). Regular sketch cards can be found in retail packs, while shaped sketches (Trash Can & Rotten Egg) and Triptych can be found in Collector boxes. The sell sheet also advertises there will be a collectible refrigerator tin.
You can view the sell sheet here in PDF form here, or see below for pictures. 2021 Series 1 Garbage Pail Kids Food Fight is scheduled to hit stores 1/20/21.