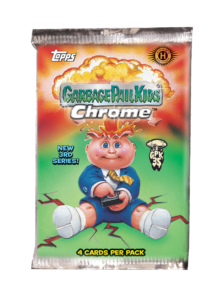 After six years, and a whole lot of begging, Topps finally gave in and released Garbage Pail Kids Chrome OS 3. While it's been just a few weeks since the 35th anniversary set was released, excitement is high for the new release. Topps has followed a similar formula as they have with recent chrome sets. The set highlights Original Series 3, first released in early 1986. All 82 base cards are in the base set, along with 18 new cards. The 18 new cards are comprised of 9 new pieces from David Gross (2), Joe Simko (2), Joe McWilliams (2), and Brent Engstrom (3). The gags on the new cards all relate to chrome items. Card backs for some reason do not included the original Tom Bunk backs, but instead new back artwork and writing done by Colin Walton. Checklist and puzzle pieces still appear on some card backs. Numbering for the set follows OS 3 numbering 84a/b-124a/b, with the new cards numbered AN1a/b – AN9a/b. In a change from the first two GPK Chrome sets, the base cards no longer have a white border. Instead the border is silver, making it harder to distinguish between a refractor and base card.
Topps also made a number of changes from the sell sheets to the parallels. They added Green, Green Wave, Purple, Purple Wave, Orange, and Red parallels to all pack types. Black Wave was added to Hobby. Unlike the first two sets, this time every card, including the new cards, have a "C" name variation. Artist Autographs will be harder to come by this time, as Topps was unable to get John Pound to sign cards for the set. However, Tom Bunk, David Gross, Joe Simko, Joe McWilliams, and Brent Engstrom all signed cards in the set. Bunk signed 11 of the 12 cards he painted for OS 3, there is no Blake Flake autographed card.
By all early indications, Topps printed a lot of this series. Odds are very long, and some of the parallels will be very hard to pull. I will have articles in the coming days going over production numbers. To see the official Topps checklist click here. For now here is what you can find and where you can find it in 2020 Garbage Pail Kids Chrome OS 3.
(Note: I will continue to update this post as new information comes to light and any new parallels/inserts are found.)
Base Set –  (100 Cards).

OS 3 84a/b – 124a/b (82 Cards)
New Art AN1a/b – AN9a/b (18 Cards)
Parallel Sets – Same exact cards from the Base set, except with a different color border or background pattern.

Refractor – 1:5 – Value Pack, 1:3 – Hobby, 1:1 Fat Packs (100 Cards)
Green Refractor /299 – 1:71 – Value Pack, 1:29 – Hobby, 1:24 Fat Packs (100 Cards)
Green Wave Refractor /299 – 1:71 – Value Pack, 1:29 – Hobby, 1:24 Fat Packs (100 Cards)
Purple Refractor /250 – 1:85 – Value Pack, 1:34 – Hobby, 1:24 Fat Packs (100 Cards)
Purple Wave Refractor /250 – 1:85 – Value Pack, 1:34 – Hobby, 1:24 Fat Packs (100 Cards)
Prism Refractor /199 – 1:107 – Value Pack, 1:57 – Hobby, 1:48 Fat Packs (100 Cards)
X-Fractor /150 – 1:142 – Value Pack, 1:58 – Hobby, 1:32 Fat Packs (100 Cards)
Black Refractor /99 – 1:57 – Hobby (100 Cards)
Black Wave Refractor /99 – 1:57 – Hobby (100 Cards)
Gold Refractor /50 – 1:112 – Hobby (100 Cards)
Orange Refractor /75 – 1:282 – Value Pack, 1:113 – Hobby, 1:95 Fat Packs (100 Cards)
Red Refractor /5 – 1:4,404 – Value Pack, 1:1,683 – Hobby, 1:1,419 Fat Packs (100 Cards)
Superfractor 1/1 – 1:22,077 – Value Pack, 1:9,200 – Hobby, 1:7,335 Fat Packs (100 Cards)
Printing Plates – 1:5,315 – Value Pack, 1:3,543 – Hobby, 1:1,761 Fat Packs (400 Total Plates – 4 per card A & B)
Insert Sets – All the various insert subsets that can be found in packs.

C Name Variations – 1:101 – Value Pack, 1:101 – Hobby, 1:101 Fat Packs (50 Cards)
Artist Autograph /25 – 1:2,453 – Value Pack, 1:2,432 – Hobby, 1:815 Fat Packs (20 Cards – 89a, 90a, 94a, 95a, 103a, 111a, 112a, 115a, 116a, 122a, 124a. AN1a-AN9a)