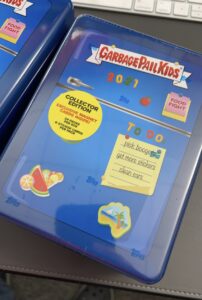 The last four months Topps has loaded the calendar with GPK releases. 2021 Series 1 Garbage Pail Kids Food Fight marks the end to a mad dash for collectors who are trying to keep up with everything. Topps followed a similar formula as they did with recent sets like the 35th Anniversary release. The same final card artists; Joe Simko, David Gross, Brent Engstrom, and Joe McWilliams return to complete all the artwork on the 200 card, 100 a/b, set. This is the last set that was overseen by Brand Manager Jessica Kanzer, who left Topps prior to the set's release. One thing that never changes is Topps being unable to grasp basic math. Parallel odds are again overstated by double. Also once again, production is very high for this set, it rivals or even surpasses the production of the 35th set. I'll have articles in the coming days going over production, but it's clear GPK is hotter than its been in a long, long time.
There are a few minor changes to the set. Insert set sizes are slightly different than previous sets, with Celebrity Chefs, 16 cards and Cereal Aisle, 24 cards. Topps also changed some of the print runs on the inserts. Artist Autographs jumped way up to /80 of each. It appears the change was made to satisfy the additional production. Patch Relics are actually lower this release at /199, while Gold parallels move back to /50. One major issue being seen in early breaks is the lack of GPK Wacky Package inserts in Collector boxes. Those have historically been 1 per box, and the odds this year show that same thing. However, early breaks show only about 15%-20% of boxes actually contain the cards. Another issue is Topps forgot to list odds for Loaded Puzzle Sketches on the Blaster boxes. Finally, Topps, for the first time, inserted a redemption card for a digital pack of GPKs on the WAX Blockchain. The artwork on the card was done by artist Nik Castaneda. This is the first time WAX NFTs are tied to a physical product and being sold in major retailers. This is groundbreaking in the NFT industry, as digital assets become more and more popular.
I will have articles in the coming days looking at production numbers in more detail. To see the official Topps checklist click here. For now here is what you can find, and where you can find it in 2021 Series 1 Garbage Pail Kids Food Fight.
(Note: I will continue to update this post as new information comes to light and any new parallels/inserts are found.)
Base Set – 100a/b (200 Cards).
Parallel Sets – Same exact cards from the Base set, except with a different speckled color border. (Note: Odds on parallels are overstated by double.)

Pepper Black Border (Black)) – 1:2 – Collector (200 Cards)
Spit In Your Food Blue Border (Light Blue) /99 – 1:36 – Retail Display (200 Cards)
Saucy Red Border (Red) /75 – 1:30 – Collector (200 Cards)
Fool's Gold Border (Gold) /50 – 1:358 – Retail Display/Value, 1:358 – Collector, 1:120 Fat Packs (200 Cards)
Booger Green Border (Green) – 1:2 – Retail (200 Cards)
Jelly Purple Border (Purple) – 1:2 – Fat Packs (200 Cards)
Mustard Yellow Border (Yellow) – 1:10 – Value Box Packs (200 Cards)
Printing Plates – 1:796 Collector, 1:13,196 Value, 1:13,049 Retail Display, 1:4,399 Fat Packs (400 Total Plates – 4 per card artwork)
Insert Sets – All the various insert subsets that can be found in packs.

GPK Wacky Packages – 1:24 – Collector (10 cards)
Refrigerator Magnet Card – 1:24 – Collector (12a/b – 24 Cards)
Cereal Aisle – 2 Per Fat Pack (12a/b – 24 Cards)
You Are What You Eat – 1:3 – Retail Display (5a/b – 10 Cards))
Celebrity Chefs – 3 Per Value Box (8a/b – 16 Total Cards)
GPK Wacky Packages Patches /199 – 1:112 – Collector (10 Total Cards)
Adam Appetite Digital Redemption  – 1 per box Collector, Blaster, Retail Display, 1:4 Fat Packs (1 Card)
Collectible Blue Refrigerator Tin – 1 Per Collector Box (1 Tin)
Collectible Refrigerator Tin – 1 Per Blaster Box (4 Tins)
Artist Autograph /80 – 1:40 Collector, 1:646 Retail Display, 1:646 Value, 1:215 Fat Packs (100 Total Cards – 1 per card artwork)
Sketch Card – 1:410 Retail Display/Value, 1:137 Fat Packs (60 Artists)
Shaped Sketch – 1:182 – Collector (60 Artists)
Triptych Sketch – 1:1,201 – Collector (60 Artists)
Loaded Sketch – 1:Unknown – Value Box (60 Artists)
Panoramic Sketch Cards – 1:9,897 – Value (60 Artists)