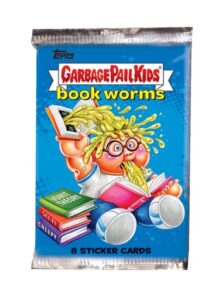 We are one week away from the release of the first GPK retail set in 17 months. Today Topps revealed the checklist for 2022 Series 1 Garbage Pail Kids Book Worms. GPK retail sets have been delayed due to printer and sticker/card stock shortages due to Covid and increased demand in the trading card industry. The base set is listed on the checklist as 1-100 with only one column of names. GPKNews is checking with Topps to see if the "B" names were left off in error, or if base set is only 100 cards. **Update: B cards exist based on an early box break this evening.** The checklist also shows a 32 piece puzzle, and 6 9-card character name puzzles. These are the puzzles for the back of the cards.
There are of course plenty of inserts that are exclusive to different pack types. Although due to sticker stock shortages, Topps cancelled Value Box (Blasters) from the series, eliminating the GPK Gets Graphic insert set. That artwork may find life in the future as part of a different offering. Retail Display packs are being made, and will be the place to find the 10 card Author's of Their Own Misfortune insert set with artwork done by Tom Bunk. According to the checklist the Gross Adaptations insert set might be found in multiple pack types. The insert set is listed as 25 cards, 1-15 are separated from 16-20, which are labeled as a Walmart MB Exclusive, while 21-25 are labeled as a Walmart MB Toy Aisle exclusive. It appears there might be two different types of Mega Boxes offered at Walmart, while the first 15 cards of the set are available in multiple pack types. The ever popular Collector packs have a number of inserts; 8 card Wacky Package Prose (1 per box), 5 card Book Marked! (1 per box), and the 10 card GPK Patch Card insert set. The Iron-on patches advertised on the sell sheet do not appear in the checklist.
Topps had the four final card artists; Joe Simko, Brent Engstrom, David Gross, and Joe McWilliams sign autos once again for the set. However, the number of autos signed increased tremendously. Each artist signed 170 autos per card(!), 160 for pack insertion, and 10 for replacements. In a change, the autos were not numbered on the card when received by the artists. It's not known if Topps decided to insert all the autos into the product, given Value boxes were cancelled. Topps did not include an official sketch card artist checklist. GPKNews is working to try to obtain the official list. In the meantime, GPKNews has confirmed 59 sketch artists, with one being new to GPK. Those numbers could change with the release of the product. You can find the official checklist for 2022 Series 1 Garbage Pail Kids Book Worms in PDF form here.