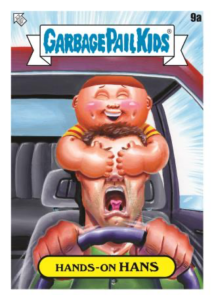 The last week has been filled with GPK news. Today brings us the retail sell sheets for 2021 Series 2 Garbage Pail Kids GPK Goes on Vacation. There are a number of changes being made to the retail products found in Targets and Walmarts. It appears Fat Packs are a thing of the past. As with Chrome 4, there are no Fat Packs being offered by Topps for the next retail release. Blasters and Retail Display boxes will be the two options available for big box retailers. Because there are no Fat Packs, Purple parallels are also no longer being produced. Collectors can continue to find Green parallels in all retail packs. Route 66 Asphalt (/66), Fool's Gold (/50), Printing Plates, Regular Sketch cards, and Artist Autos will be also randomly inserted into all pack types throughout the product. A new insert card, Don't Make Me Pull this Car Over, will be inserted into all retail packs types in 1:3 packs. These cards will featured the theme of the torture that is being crammed into a car for a road trip.
Retail Display boxes are now being advertised by Topps on the sell sheet as being Retail + Hobby Display boxes. Keep in mind these are the same product. There is no "H" designating them as Hobby. They do however come with some exclusive items. Spit Blue parallels (/99) can be found in Display boxes. Famous Landmarks by Tom Bunk can be found in Display Boxes only. The returning Bunk puts his GPK twist on iconic destinations. These will be inserted 1:3 packs.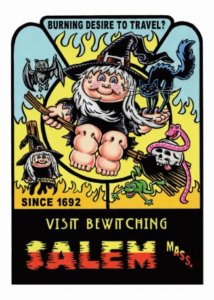 Blaster boxes (aka Value Box), will continue to contain some exclusive items. Blaster boxes will come packaged in 1 of 3 collectible luggage themed tins. These boxes will once again contain 10 packs, and carry a MSRP of $22 per tin. Phlegm Yellow parallels can only be found in Blasters, and will be inserted 1:5 packs. The Travel Poster Sticker insert set is also a Blaster box exclusive, and will come 3 cards per tin. Collectors will also get the chance to pull Loaded Puzzle and Panoramic sketch cards from these tins.
Much like with GPK Chrome 4, release dates and allocations are up in the air. The product is being heavily allocated on the retail side with customers only being able to pre-order a limited number of cases. The sell sheets advertise the set will be available September 2021, while the case pricing sheets have a release date of Nov. 24, 2021. GPKNews reached out to Topps for clarification on the released date, and was told to expect the set in the Fall of 2021. GPKNews will update everyone once an exactly release date is known. You can checkout the retail sell sheet for 2021 Series 2 Garbage Pail Kids GPK Goes on Vacation below, or in PDF form here.