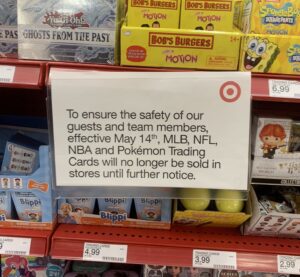 Huge news in the trading card industry yesterday as Target announced they would be halting in store sales of some trading card brands. As first reported by Bleeding Cool, Target also issued the following statement to GPKNews:
The safety of our guests and our team is our top priority. Out of an abundance of caution, we've decided to temporarily suspend the sale of MLB, NFL, NBA and Pokémon trading cards within our stores, effective May 14. Guests can continue to shop these cards online at Target.com.
The statement only specified certain trading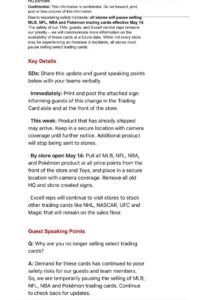 cards would be pulled; Pokémon, MLB, NFL, and NBA. When asked by GPKNews, Target would not specifically say if other trading cards, specifically Garbage Pail Kids, would continue to be sold in stores. GPKNews was told by a source that the company will continue to evaluate other cards and make decisions that best serve customers and employees. An internal store communication posted to Blowout Cards Forums shows that employees are only pulling Pokémon, MLB, NFL, NBA cards from store shelves.
Target made the decision after months of various policy changes in stores in an attempt to organize trading card sales after massive increases in demand. After Black Friday like atmospheres begin occurring, Target started limiting sales to Friday mornings and limiting purchase quantities. Last week, an incident made news after a customer was attacked by four men in a Target parking lot in Wisconsin after a disagreement over trading cards purchased. The customer ended up stopping the altercation by pulling his gun on the assailants.
Rumors have also circulated online that Walmart is stopping in store trading card sales. However, as of now that isn't the case. Walmart told GPKNews, "We have not suspended the sale of any trading cards.  Like other retailers, we have seen increased customer demand, and we are determining what, if any, changes are needed to meet customer demand while ensuring a safe and enjoyable shopping experience." It appears any stores posting Walmart would be stopping in stores sales was done an error.