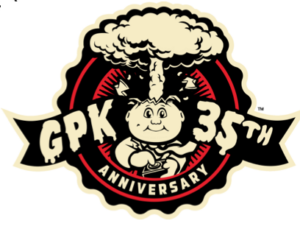 After yesterday's release of the Hobby sell sheet, today brings us the 2020 Series 2 Garbage Pail Kids 35th Anniversary retail sell sheet. The format of the second series of 2020 is much the same as the first series of the year, Late to School, with just a couple of changes. The base set still appears to be numbered 1-100a/b, but the set features cards from 5 different themes. The themes help celebrate Garbage Pail Kids through the last 35 years. Collectors can expect to see familiar characters and art styles throughout all eras of Garbage Pail Kids. Like Late to School the set will have back art, featuring puzzles, checklists, and more.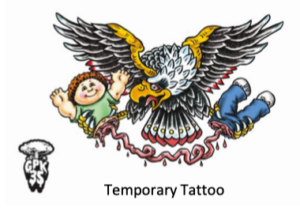 Of course Retail Display boxes are back once again. These 24 pack boxes were not very popular with Collectors with the Late to School set since Topps removed the Yellow Parallels. In order to help rectify that, the Spit Blue Parallels (/99), formerly found in Collector boxes, have moved to Retail Display boxes. While this increases the value of Retail Display boxes, it hurts the Collector box as there was no value replacement for them. Green Parallels return 1 per pack in all retail types. Gold Parallels also can be found in all pack types, however this time they will be /35, instead of the usual /50. Artist Autos and Printing plates are also available in all pack types. The Retail Display boxes will be the only place to find the "No Ragerts" Temporary Tattoos. The artwork on these are done in American Traditional tattoo style. Finally, collectors can also hunt for regular sized sketch cards.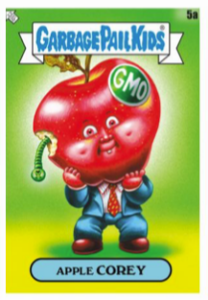 Value boxes will be available again in retail stores like Target and Wal-Mart. These 5 pack boxes will once again come in 40 box cases, a change Topps made with the Late to School set. The Phlegm Yellow parallels will be back in Value boxes again, one per box. Midlife Crisis insert cards will appear 3 per Value box, wrapped in a separate cellophane wrapper. These will be classic characters facing midlife and millennial issues. Also just like Late to School, Value boxes are scheduled to feature both Loaded and Panoramic sketches. This didn't happen with the Late to School set, as Topps switched the Pano and Triptych sketches during production.
The last retail pack type will be the familiar Fat Packs. Fat Packs will see the return of 1 Jelly Purple parallel per pack. Each pack will also include 2 Fan Favorite insert cards. The sell sheet says these will be the favorite GPKs as voted on by fans. No word yet on how or when Topps will hold voting.
The sell sheet also advertises that collectors will have a chance to have a custom GPK created of themselves. To view the retail sell sheet click here, or see below for pictures. 2020 Series 2 Garbage Pail Kids 35th Anniversary is set to hit store shelves on 9/23/20.