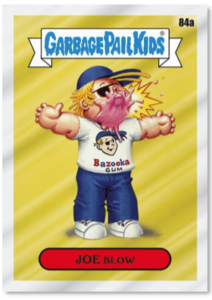 Hell has frozen over, and yes, those are pigs flying. After years of being pestered by GPK collectors, Topps has finally made their dreams come true. Today Topps announced 2020 Garbage Pail Kids Chrome OS 3. After two Chrome launches in 2013-14 Topps is back with the third set featuring GPKs on shiny chrome card stock. Topps has decided to continue on with the Chrome product picking up where it left off with OS 3. The base set will be comprised of the original series 3 cards. The sell sheet advertises some, "limited new art" in addition to the base set.
The popular parallels are scheduled to return. Refractors found 1:3 packs, Prisms Refractors /199, X-Fractor /150, Black Refractors /99, Gold Refractors /50, Superfractors 1/1, and Printing Plates 1/1 are all set to be found in packs. Artists autographs and C Name variations are also set to return. Once again each pack will contain 4 cards, 24 packs to a box, and 12 packs to a case.
You can view the complete sell sheet here, or see pictures below. Collectors are being given a second chance by Topps to prove they can support a Chrome GPK product. They better start saving their money now, 2020 Garbage Pail Kids Chrome is set to hit store shelves 11/25/20.