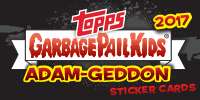 Retail info is out for the first series of next year, 2017 Series 1 Garbage Pail Kids Adam-Geddon. For the most part Topps is following the same formula as they did with both 2016 sets. However, as with Hobby/Collector packs, Topps is making major changes to the number of cards in each pack. All regular retail packs found in retail boxes, gravity feeds, blasters, and blisters will now contain 8 cards per pack. Each pack will come with 7 base cards and 1 Puke parallel card. Previously, retail packs have been coming with 10 cards per pack. No word yet on the manufacture's suggested retail price from Topps on retail packs. Pre-order prices for Hobby/Collector boxes are lower than previous series.
The rest of the retail formula stays pretty much the same. As mentioned, Puke green parallels will fall 1 per retail pack, while Gold Dust parallels numbered to /50 can be found in retail. Once again artist autographs, regular sized sketch cards, and printing plates will be randomly inserted. This matches the Hobby pack configuration for this release. For the first time since the Flashback series it appears there will be little difference in Retail and Hobby packs, (Of course pack odds could end up being the difference maker once released.)
Blaster boxes are returning, but with one other big change Topps is making. Blasters will now come with 5 packs per box, compared to the previous 4 packs per box. Once again, Topps is making two types of Blasters, SE boxes will include 3 Gross Bears reprinted cards, while the EA boxes will contain 3 Bathroom Buddies reprinted cards. The popular Loaded Artist Sketches will also be randomly be inserted in Blaster boxes.
Jumbo "Fat Packs" will also be offered at retail. Each Jumbo pack will contain 19 base cards and 3 Green Puke parallels. Also inserted will be two "Classic Adam-Geddon Stickers". There is no mention of Panoramic Sketches on the sell sheet this time. In the 2016 sets the Panoramic Sketches were found inserted in the Jumbo packs. Blister packs previously sold at Toys r Us and Wal-Mart will also return. Each Blister will contain new versions of Adam Bomb/Boom called, "Adam Bomb's Armageddon Stickers".
To view the Retail Sell Sheet in PDF, click here. Or check out the pictures below. 2017 Series 1 GPK Adam-Geddon is set to hit store shelves Jan. 18, 2017.