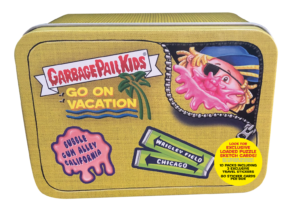 We are inching oh so close to finally seeing the release that collectors have been waiting a year and a half for. With less than one week to go, Topps has released the checklist for 2023 Series 1 (2021S2) Garbage Pail Kids GPK Goes on Vacation. The base set iscontains 200 cards, 100 new paintings in a/b versions.
There are a number of insert sets, most of them exclusive to a certain pack type. Artist Tom Bunk returns with his own insert set called, Famous Landmarks. This 10 card set can be found in Retail Display (Hobby) boxes. The 10 card Pack Your Bags – Wacky Packages insert set can be found exclusive in Collector boxes. Collector boxes are also the only place to find the 49 card State Quarter Relics insert set. (Note: The checklist only shows 49 states, with Wyoming missing. According to Topps Wyoming was a late removal from the set.) All retail packs are suppose to share the 20 card Don't Make Me Pull this Car Over insert set. The 8 card Bumper Sticker insert set is the same set that was called Travel Posters on the sell sheet. Those cards were scheduled to be Blaster box exclusives. For the first time, Topps has revealed the employee Short Print cards. There are 9 total in the set, that can be found in all pack types. The rare employee cards first appeared in the 35th anniversary set. Collector boxes are suppose to also have a luggage tag in each box, but those do not appear on the checklist.
Once again the four final card artists, Joe Simko, Brent Engstrom, David Gross, and Smokin Joe McWilliams did all the cards in the set, and their autographs can be found in packs numbered to /75. The autograph checklist is missing three cards, 19 (Artie of Massage), 66 (Absconding Abby), and 100 (Water Fallon) are missing. There are 58 artists that appear on the sketch card checklist for the set. You can find the official checklist for 2023 Series 1 (2021S2) Garbage Pail Kids GPK Goes on Vacation in PDF form here.