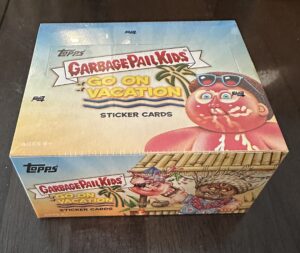 The kids are finally back from vacation! For better or worse, 2023 Series 1 Garbage Pail Kids GPK Goes on Vacation will go down as the flag bearer for the the Covid years. The set was originally title 2021 Series 2, and was planned to release in Sept. 2021. The set was first delayed due to Covid and printer shortages. Then came paper shortages, and being passed over by other sets due to contracts. Now 17 months later collectors finally get the set. The release of this set marks the final delayed GPK set from Topps. The set was structured before many of the changes made for the Book Worms set, so the structure more closely resembles GPK Food Fight. Once again, artists David Gross, Brent Engstrom, Joe Simko, and Smokin Joe McWilliams did all the art for the set. The base set contains 200 cards, 100 new pieces with a/b versions. For the first time in a long time, and after the debacle of Chrome 5, Topps actually appears to have gotten the odds correct on all packs. Based on early breaks the parallels and inserts are dropping right at the rate advertised. It's a pleasant surprise to see accurate odds for a change. Production appears to be down from Book Worms, especially with Collector and Retail Display boxes. Don't get me wrong, there's a lot of this set, but it appears to buck the trend of increasing prints runs. I'll have more information on production numbers in the coming days.
As mentioned, this set more closely resembles GPK Food Fight. Back are Loaded Puzzle and Panoramic sketches in Blaster boxes. Yellow parallels also return to blasters. No Mega boxes for this release. Big box stores will most likely just carry the 10 pack Blaster Tins. Another positive, compared to Boom Worms, Artist autos are down to /75 copies of each, and they are numbered on the back. That does mean however, Topps needed to find hits for Collector boxes. The relic set is a whopping 50 cards, all /99. After telling GPKNews they pulled Wyoming from the set, the card has surfaced. The checklist released by Topps showed the Travel Sticker Insert set with only 8 cards, that was an error, as all 10 cards do appear in packs. Another surprise not mentioned on the checklist is Tom Bunk autographed Travel Sticker cards, these found in Retail Display boxes are /50. Finally, employee short print cards are back, this time they were announced ahead of time, and odds for the cards appear on the packs.
I will have articles in the coming days looking at production numbers in more detail. To see the official Topps checklist click here. (Note: Topps left off Luggage Tags, and Travel Stickers list isn't complete.) For now, here is what you can find, and where you can find it in 2023 Series 1 Garbage Pail Kids GPK Goes on Vacation.
(Note: I will continue to update this post as new information comes to light and any new parallels/inserts are found.)
Base Set – 100a/b (200 Cards).
Parallel Sets – Same exact cards from the Base set, except with a different speckled color border.

Bruised Black Border (Collector) – 1:1 (200 Cards)
Spit Blue Border /99 (Retail Display) – 1:15 (200 Cards)
Blood Red Border /75 (Collector) – 1:12 (200 Cards)
Fool's Gold Border /50 – 1:57 (Collector), 1:95 (Retail Display), 1:338 (Blaster) (200 Cards)
Booger Green Border (Retail) – 1:1 (200 Cards)
Route 66 Asphalt /66 – 1:45 (Collector), 1:72 (Retail Display), 1:250 (Blaster) (200 Cards)
Phlegm Yellow – 1:5 (Blaster) (200 cards)
Printing Plates –1:1,697 (Collector), 1:5,326 (Retail Display), 1:5,502 (Blaster) (400 total – 4 per artwork)
Insert Sets – All the various insert subsets that can be found in packs.

Pack Your Bags Wacky Packages – 1:24 – Collector (10 cards)
Famous Landmarks – 1:3 – Retail Display (5a/b – 10 Cards))
Don't Make Me Pull This Car Over – 1:3 – Retail Display/Blaster (10a/b – 20 cards)
Travel Stickers – 1:4 – Blaster (10 Cards)
State Quarter Relic Card /99 – 1:36 – Collector (50 Cards)
Luggage Tag – 1 Per Collector Box (12 total)
Base Card Short Print – 1:652 (Collector), 1:1,056 (Retail Display), 1:3,670 (Blaster) (9 Cards)
Artist Autograph /75 – 1:90 Collector, 1:279 Retail Display, 1:292 Blaster,  (100 Total Cards – 1 per card artwork)
Tom Bunk Travel Autograph /50 – 1:1,179 Retail Display (10 Cards)
Sketch Card – 1:441 Retail Display, 1:508 Blaster (58 Artists)
Panoramic Sketch Card – 1:20,036 Blaster (58 Artists)
Loaded Puzzle Sketch Card – 1:4,404 Blaster Boxes (58 Artists)
Shaped Sketch – 1:196 – Collector (58 Artists)
Triptych Sketch – 1:1,159 – Collector (58 Artists)