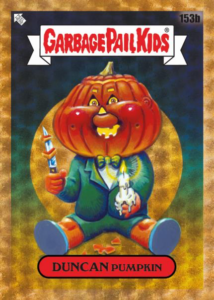 While the second retail set for 2021 still hasn't been announced by Topps yet, today Topps did officially announce 2021 Garbage Pail Kids Chrome OS 4. After a huge response to last years Chrome OS 3 release, Topps is back this year with more. Once again the set will feature 100 base cards, comprised of reprints of the original 42 characters in the set, along with 6 new pieces of art, (That doesn't add up to 100, so the sell sheet may be off there.) There will be a host of new parallels this time around, with 16 different ones per character! Collectors will be able to find:
Refractors – 1:3
Green Refractor – /299
Green Wave – /299
Yellow Refractor – /275
Yellow Wave – /275
Purple Refractor – /250
Purple Wave – /250
Prism – /199
Aqua Prism – /199
X-Fractor – /150
Black Wave – /99 (Hobby Only)
Orange Refractor – /75 (Hobby Only)
Rose Gold Refractor – /25
Red Refractor – /5 (Hobby Only)
Superfractor – 1/1
Printing Plates – 1/1
C Name variations will once again return with an insertion rate of 1:100 packs. Artist autographs are also advertised with autos from Tom Bunk and David Burke. You can view the sell sheets below or in PDF form right here. Topps didn't include an official release date for the set in the information. The sell sheet advertises available in November, while the case breakdown says releasing the week of Dec. 31st. GPKNews will work to confirm the release date. Enjoy you chrome addicts!