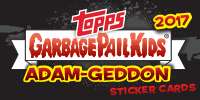 Topps today announced 2017 Series 1 Garbage Pail Kids Adam-Geddon. The series is setup much like both 2016 series were. Once again there will be a 220 card base set, this time focusing on on GPKs in end of the world scenarios such as flooding, meteors, zombie attacks, etc. Topps is making one huge change for this series. The cards per pack for both Hobby and Collector packs are changing. Both pack types will now come with 8 cards per pack. This is a change from previous sets that offered 10 card for Hobby packs and 6 cards per Collector pack.
The same parallels return once again with slight changes. According to the sell sheet Puke parallels will fall in Retail packs and Hobby packs this time. Bruised parallels will fall one per Collector pack. Spit parallels numbered to 99 and Bloody Nose parallels numbered to 75 will also be found in Collector packs. Also found only in Collector boxes will be the Best of 2017 US Presidential Election cards, featuring reused artwork from the recent online sets but with new names. Fool's Gold parallels numbered to 50 will also return in all pack types.
In another move to apparently closely match Hobby and Retail boxes, regular sketch cards can be found in both Retail and Hobby packs this time. While Shaped Sketch , Double Artist Panoramic Sketch, and Patch cards will be found in Collector packs. It appears once again each Collector box is guaranteed one hit. Artist autographs and Printing Plates are also mentioned being included as a possible hits in Collector boxes.
You can view the sell sheet in PDF here, or see pictures below. There are also examples of the new cards for the set. 2017 Series 1 GPK Adam-Geddon will hit store shelves on Jan. 18, 2017.