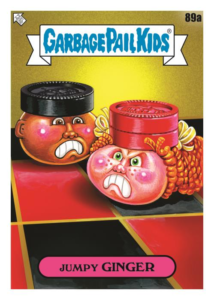 We may just be coming off of a retail release, but Topps is gearing up for another one in just two months. Today Topps announced 2024 Garbage Pail Kids: Kids At Play. The new set features all new art and gags focused on children's play time and activities. Perhaps the biggest news is the return of Retail products. After the previous release 2023S2 InterGoolatic Mayhem only had Hobby products, it appears Retail packs types will be returning to your local Target and Walmart stores. In fact, the Retail Sell Sheet is the first one out this time, the Hobby sell sheet should be out soon. The set will once again feature 200 base cards, 100 new pieces with a/b versions. All artwork for the set was done by David Gross, Joe Simko, Brent Engstrom, and Joe McWilliams.
The usual suspects for parallels are set to return to retail packs. Booger Green can be found 1 per retail pack, Yellows can be found 1:5 in Value Box (Blaster), Blues /99 can be found in Retail Display boxes, while Gray /199, Gold /50, and Printing Plates 1/1 can be found in all pack types. Artist autographs will once again be in the set. In addition the two autos types that debuted in the last set, Gold Auto /50, and Foilfractor Auto 1/1, will return. There will also be two insert sets exclusive to retail packs. Let's Get Physical is the Tom Bunk insert set that can only be found in Retail Display boxes. Ill-Infulences, an insert with gags on popular toys, gaming, and sports will be exclusive to Blaster boxes. Finally, of course there will be sketch cards. Regular sketch cards can be found in all retail pack types. Loaded Puzzle and Panoramic sketches will be exclusive to Blasters.
You can view the sell sheets below or the PDF can be found here. 2024 Garbage Pail Kids: Kids At Play is set to release, 1/24/24.