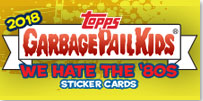 Continuing their recent trend of releasing checklists a week before release, today Topps released the checklist for 2018 Series 1 Garbage Pail Kids We Hate the 80's. As advertised the set will once again contain 180 cards, (90 with a/b versions). This time around Topps is making it simple. There are 10 subsets that each contain 18 cards, (9 a/b). One of the subsets included in the base set is the 80's Sitcom subset based on the current TV show the Goldbergs. The base Subsets are:
80's Toys Sticker
80's Cartoons Sticker
80's Video Games Sticker
80's TV Shows & Ads Sticker
80's Movies Sticker
80's Celebrities Sticker
80's Fashion & Fads Sticker
80's Culture Sticker
80's History Sticker
80's Sitcom Sticker
The rest of the checklist is pretty much as expected. Bathroom Buddies and Gross Bears return once again to Blaster boxes. However this time around there are 8 Gross Bears cards, while Bathroom Buddies remains at 6. The Jumbo Bonus Classic 80's stickers is 20 cards again. While the "bonus" 80's Wax Pack Parodies cards found one per Collector box, once again is at 10 in the set. The patch cards found in Collector boxes remains at 20 cards, and just like Battle of the Bands appears to use the same cards as the Classic 80's sticker Jumbo Insert Set. Finally, there will be autographs of the 80's sitcom subset, as the members of the Goldbergs cast have signed cards. Joe Simko confirmed he also signed 80's Sitcom cards for the standard artists autograph cards. Here is the official Topps checklist in PDF form.