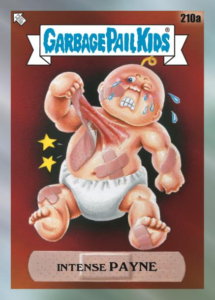 It's been a few weeks since the release of the 2023 Garbage Pail Kids Chrome OS 6 retail sell sheet, but we now finally have the Hobby sell sheet. Topps has changed the way products are announced this year, and its not uncommon to see the announcements come 2-4 weeks prior to release. Collectors won't find any surprises here as the makeup of the set is similar to the past two chrome releases. The 100 card set is comprised of all the original cards from OS 6, along with new cards by the current artists. The sell sheet also advertises there is brand new comic card back artwork by longtime GPK artist Brent Engstrom. C-Name cards along with artist autographs from Tom Bunk and James Warhola highlight the inserts that can be found in packs. The same parallels found in previous GPK Chrome releases can be found in packs, with Black Wave, Orange, and Red refractors being exclusive to Hobby boxes. Here are all the refractors that can be found in Hobby packs:
Refractors – 1:3
Green Refractor – /299
Green Wave – /299
Yellow Refractor – /275
Yellow Wave – /275
Purple Refractor – /250
Purple Wave – /250
Prism – /199
Aqua Prism – /199
X-Fractor – /150
Black Wave – /99 (Hobby Only)
Orange Refractor – /75 (Hobby Only)
Rose Gold Refractor – /25
Red Refractor – /5 (Hobby Only)
Superfractor – 1/1
Printing Plates – 1/1
You can view pictures of the sell sheet below, or the PDF can be found here. The info included from Topps today shows the release date of 8/25/23. Earlier info from Topps had the release date as 8/30/23, while it does look like we are getting the set this month, its anyone's guess as to when!