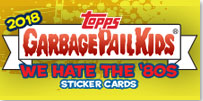 Earlier this week Topps released the information for Hobby/Collector packs of 2018 Series 1 Garbage Pail Kids We Hate the 80's retail set. The setup for 2018's first set appears to be very similar to the sets from 2017. The base set will consist of 90 new pieces of artwork available in a/b names for a 180 card set. As Topps has done the last couple of years, the set will be broken into various themed subsets, all focused on parodies from the 1980's.
Both 24 pack Retail display boxes, and 36 pack Gravity Feed boxes are slated to return. Parallels remain the same, as one Green Puke parallel card will come with each Retail and Hobby pack. Gold parallels will be randomly inserted throughout all pack types in the set. While Yellow Pee borders should once again be found in Gravity Feed packs. All pack types will also have the chance at hitting an Artist Autograph card to a Printing Plate. Regular sized sketch cards can also be found in Retail and Hobby pack types.
Blaster Boxes (Value Box) will once again be sold in two versions. Gross Bears bonus cards can be found in the "SE Value Box", while Bathroom Buddies ca be found in the "EA Value Box". This will mark the fifth straight release that has featured the Gross Bears and Bathroom Buddies as Blaster Box bonus cards. Blasters will continue to be sold with five, (8) card packs in each box. Each Blaster case will contain 16 boxes. Also returning to Blaster boxes are the very popular Loaded Puzzle Sketch cards.
Fat Packs will also return to the pack lineup. These packs are more than double the size of a retail pack. Each pack contains 20 base cards, two Puke parallels, and two Classic 80's Stickers. The Classic 80's Stickers subset features previously released GPKs that parodied things from the 80's in a redesign. On the sell sheet the Classic 80's cards have a yellow background on the banner matching the sketch cards. Panoramic Sketch cards can also be found randomly inserted in Fat Packs for this release.
To view the Retail Sell Sheet as a PDF click here, or check out the pictures below. 2018 Series 1 Garbage Pail Kids We Hate the 80's is set to release on Jan. 17, 2018.