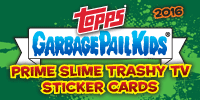 Topps today announced the next retail Garbage Pail Kids set, 2016 Prime Slime Trashy TV. The set is based on the "current golden age of television". Once again the base set will contain 220 cards in various subsets. The base set will feature subsets once again parodying many TV shows. Topps was not as forthcoming this time around with the information on the sell sheet as you will see below. The set appears to follow the same pattern as the American As Apple Pie set released earlier this year.
As with the AAAP release Bruised parallels fall 1 per Collector pack, while Spit parallels #'d /99 will come in both Hobby and Collector packs. Fool's Gold parallels will appear through all pack types and are 3'd /50 again. New this set will be an GPK Wacky Packages insert set found in both Hobby and Collector boxes. As the previous releases Collectors boxes will guarantee 1 hit each and will find Parody Patch, Artist Relic, and Duel Artist Panoramic sketch cards. Artist autos and Printing Plates will be found in all pack types, while shaped sketches only in Hobby and Collector packs. Based on imageless releases it also appears Bathroom Buddies and Gross bears will continue in this set as part of retail offerings.
The newest GPK release is set to release on Oct. 5, 2016. See below for examples of new artwork as well as the Hobby/Collector Sell sheet.