Update 12/3/23 – Topps has provided GPKNews the checklist with the Sketch Artist checklist. Click here to see updated checklist.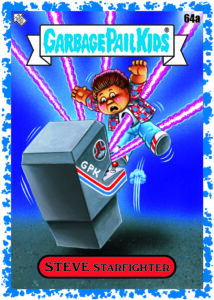 The final major retail GPK release is upon us, as Topps gets ready to launch collectors into space! Today Topps released the checklist for 2023 Series 2 Garbage Pail Kids InterGoolactic Mayhem. As has been the recent tradition, the base set contains 200 total cards, 100 new pieces with a/b versions.
Collectors will only have two options this time for pack configurations, both Collector and Hobby boxes. Despite that, there are still a number of inserts for collectors to chase. Collector boxes will have a number of inserts that will be exclusive to that box. Wacky Packages Plantery Provisions (8 cards), Kosmic Krashers (5 cards), and GPK Morph Cards (4 cards) will all fall at one card per Collector Box. GPK Patch cards (10 cards) will also be random hits in Collector boxes. Two other insert sets, the Tom Bunk's Space Farce (10 cards), and Time Warp (20 cards) can be found at a minimum in Hobby boxes. It's not clear yet if those inserts will also be included in Collector boxes.
All final card artwork for the set was once again done by Joe Simko, David Gross, Brent Engstrom, and Joe McWilliams. There will once again be artist autographs in the set /75 and FoilFractor 1/1. The Time Warp insert set also has artist autos versions /50. Finally, while the sketch artist checklist doesn't appear on the main checklist, GPKNews can confirm there is a total of 69 sketch artists for this release, with 15 of those making their GPK debut. You can find the checklist for 2023S2 Garbage Pail Kids InterGoodlatic Mayhem in PDF form here. The set is scheduled to hit hobby stores in time for Thanksgiving on 11/22/23.