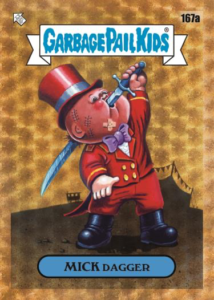 Haven't gotten enough shiny GPKs this year? You're in luck! Today Topps announced 2022 Garbage Pail Kids Chrome OS 5. Yes, this will be the second GPK Chrome set released in a 4 month period. In a weird twist, the Retail Sell Sheet information was actually released first by the company before the Hobby information. SteelCity Collectibles begin listing pre-orders today for the set that is scheduled in just six short weeks. The set is based on the Original Series 5 GPK set. The sell sheet doesn't specify how many base cards will be in the set, but does say there will be old and new art featured, much like previous chrome sets. Collectors should expect there to be right around 100 cards for the base set. Collectors will find the set is setup vary similar to the Chrome OS 4 set. All the same parallels return, with Atomic, Gold, and Black once again being Value Box Exclusives. Here are the parallels collectors can find:
Refractors – 1:3
Atomic Refractor – 3 per (Value Box Only)
Green Refractor – /299
Green Wave – /299
Yellow Refractor – /275
Yellow Wave – /275
Purple Refractor – /250
Purple Wave – /250
Prism – /199
Aqua Prism – /199
X-Fractor – /150
Black Refractor – /99 (Value Box Only)
Gold Refractor – /50 (Value Box Only)
Rose Gold Refractor – /25
Superfractor – 1/1
Printing Plates – 1/1
The popular C-Name Variations and Artist Autographs will also return bin the set. There will also be a new, extremely rare, No Blue Ink Variation set that will be randomly inserted into packs. There will also be two types of Retail product being offered. The usual Value Box (Blasters) return. Each Value box has 6 4-card chrome packs with 3 Atomic Parallels per box. There will also be the brand new Hanger Pack, which contains 5 4-card packs, with no exclusive cards. Value boxes will retail for $19.99, while Hanger packs retail for $15.99. Here are pictures of the sell sheet, or the PDF can be found here. 2022 Garbage Pail Kids Chrome OS 5 is scheduled to release 12/23/22.