Update: Topps shared with GPKNews the official sketch artist list for the set. In total there are 60 artists, with 9 being first time GPK artists. The artist checklist can be found here.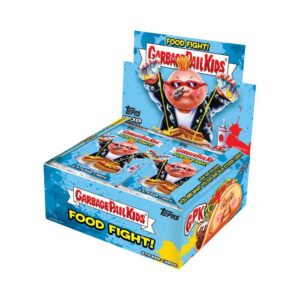 We are just one week away from the release of the first retail GPK set of 2021. Today Topps released the checklist for 2021 Series 1 Garbage Pail Kids Food Fight. The base set contains 200 cards, 100 new paintings in a/b versions. Numbering for the set continues the recent trend of 1-100a/b.
As is always the case, there are a number of insert sets all exclusive to different pack types. All four final card artists did work on each insert set for this series. This time Tops has changed up the set size on some of the insert sets. The You Are What You Ear insert set, can be found in Retail Display packs and contains 10 cards. Celebrity Chef insert cards can be found 3 per Refrigerator Tin, with the set having a total of 16 cards. The Cereal Aisle insert cards, which show GPKs as cereal mascots, come 2 per Fat Pack and have a total of 24 cards in the set. Collector boxes will feature a number of exclusive insert sets. GPK Food Wacky Packages come one per Collector box with a total of 10 cards in the set. Each Collector box will also contain a separate pack with 2 mini magnets. The magnets look to be reprints of past food related GPKs, there are a total of 24 magnets to collect. Finally, patches return with the Wacky Packages Patch Card 10 card set.
The four final card artists, Joe Simko, Brent Emgstrom, David Gross, and Smokin Joe McWilliams did all the cards in the set, and their autographs can be found in packs numbered to /80. For the first time in a while Topps did not include the official sketch artist checklist. So far GPK News has confirmed 59 artists, including nine first time GPK artists, but those numbers could change with the release. So far this is an increase of seven from the 35th set. You can find the official checklist for 2021 Series 1 Garbage Pail Kids Food Fight in PDF form here.