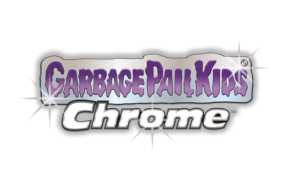 After yesterday's release of the Retail Sell Sheet, today brings us the 2022 Garbage Pail Kids Chrome OS 5 Hobby Sell Sheet. Collectors will recognize this information, as again the layout is almost identical to Chrome 4. The base set is comprised of original OS 5 artwork along with new cards. C-Name cards, along with Artist Autographs can also be found again as random inserts. As with Retail, the rare No Blue Ink cards will also be found in Hobby boxes. The parallels matchup exactly to Chrome 4. Again the Black Wave, Orange, and Red refractors are exclusive to Hobby boxes. Here are all the parallels that can be found:
Refractors – 1:3
Green Refractor – /299
Green Wave – /299
Yellow Refractor – /275
Yellow Wave – /275
Purple Refractor – /250
Purple Wave – /250
Prism – /199
Aqua Prism – /199
X-Fractor – /150
Black Wave – /99 (Hobby Only)
Orange Refractor – /75 (Hobby Only)
Rose Gold Refractor – /25
Red Refractor – /5 (Hobby Only)
Superfractor – 1/1
Printing Plates – 1/1
You can see the pictures of the Hobby sell sheet below, or you can find the PDF version here. Santa is scheduled to deliver 2022 Garbage Pail Kids Chrome OS 5 on 12/23/22.