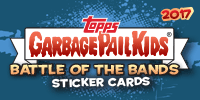 Topps today announced their next GPK retail set, 2017 Series 2 Garbage Pail Kids Battle of the Bands. The latest GPK set will be all about music. Topps says there will be 180 cards, 90 a/b different paintings, the same as with the Adam-Geddon set. Once again the set will be broken up into various subsets based on genre. The layout of the set appears to be identical to the first set of 2017, Adam-Geddon.
Beyond the 180 base cards, Collectors boxes will once again come with various parallels. Bruised will fall one per Collector pack, Spit /99, and Bloody Nose /75 will be randomly interred into Collector packs only. Collector boxes will also be the only place to find some of the "hits" in the series. Shaped sketches, Patch cards, and Dual Artist Panoramic sketches will only be found in collector boxes. Meanwhile it appears Hobby boxes will suffer the same fate as last series. Hobby packs will come with one Puke parallel per pack. Only regular sketches and Gold borders can be found in Hobby boxes, along with all other pack types for the series. As with the Adam-Geddon release both pack types will remain with 8 cards per pack.
Also mentioned in the sell sheets are a Collector box exclusive insert set, GPK Album Covers. These are Wacky Packages style parodies of famous album covers.
See below for pictures of the sell sheet, or you can download the PDF version here. There are also pictures of some of the upcoming cards. 2017 Series 2 Garbage Pail Kids Battle of the Bands is set to release on October 18th, 2017.