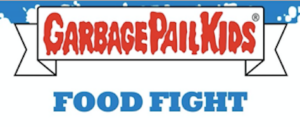 Yesterday saw the release of the Hobby sell sheet for 2021 Series 1 Garbage Pail Kids Food Fight. Today we bring you the Retail Sell Sheet. The first set of 2021 will see a familiar format to recently released sets. The 200 card base set features all new art work on fronts and backs of cards.
Retail Display Boxes return once again and have the same setup at the 35th anniversary set. Every retail pack contains 1 Booger Green parallel card. Spit in Your Food Blue parallels will also be randomly inserted in Display Boxes and numbered /99. You Are What You Eat insert cards, featuring GPK characters as food, will also be found only in Display boxes. Fool's Gold parallels (/50), Printing Plates, Artist Autos and regular size sketches can also be found in all pack types.
Five pack Value Boxes are also back with the same setup as previous sets. Mustard Yellow parallels can be found 1:5 Value Box packs. The Celebrity Chef insert set, featuring famous chefs as GPKs, will come 3 per Value Box in their own clear wrapper. Loaded Puzzle and Panoramic sketches will also only be found in Value Boxes. The sell sheet also advertises that Value Boxes will be packaged in collectible refrigerator tins. There will be 4 different tins to collect.
The final retail pack type, Fat Packs, will return. Jelly Purple parallels will continue to come one per fat pack. The Cereal Asile insert set, classic GPKs reimagined as cereal mascots, will come two per Fat Pack.
To view the retail sell sheet click here, or see below for pictures. 2021 Series 1 Garbage Pail Kids Food Fight is set to hit store shelves on 1/20/21.