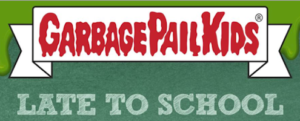 Topps today announced their next retail set, 2020 Series 1 Garbage Pail Kids Late to School. The first series of 2020 will feature a brand new theme, this time not focused on any real life people. Unlike previous sets focused on movies, TV, and music, this set will feature new gags of more general kids. The base set will once again feature 100 new pieces of artwork with a/b versions. However, just because the base set size is staying the same there are some major changes. The sell sheet advertises there will be checklists on the back! Also the base cards show the card numbering and Peel Here arrows on the front! Could this mean the return of card back artwork and puzzles?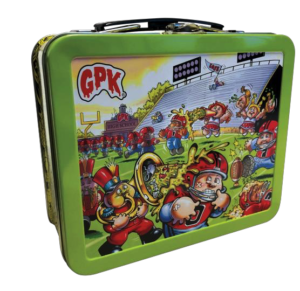 Perhaps the biggest change is how Collector boxes will be packaged. Lunchboxes!!! That's right, the Collector box will be a lunch box. There will be 4 different versions to collect. Patch cards will also be returning, as this time School Pennant Patch cards will be randomly inserted into Collector boxes. Also a new insert set School Wacky Packages will come one per Collector box. The sell sheet also advertised a new shaped sketch will be appearing as well. Artist autos, printing plates, and Triptych sketches will all also return to collector boxes. Retail Display boxes will be back again, and contain regular sketch cards, printing plates, and artist autos.
The parallels will have a similar feel as before. Booger Green will appear one per Display pack. Collector boxes will have the familiar Bruised Black (1 per pack), Spit Blue (/99), and Blood Nose Red (/75). Gold parallels will be inserted into all pack types and be limited to /50 copies.
Yo can view the complete sell sheet here, or see pictures below. GPK collectors better get their lunches packed, because school starts Jan. 15th, 2020.