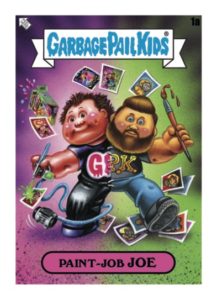 Yesterday the official website of the Philly Non-Sports Card show shared images of the officially Topps licensed cards that will be available at the show. The artwork was completed by GPK artists Joe Simko and Brent Engstrom and will be available as a pair with a/b names.
The artists will be among the guests at the next Philly Non-Sports show. The show is set to take place at the Merchants Square Mall in Allentown, PA on Oct 19th & 20th.
How can you get your hands on these cards? According The the website:
"Attend the Philly Non-Sports Card Show at the Merchants Square Mall, 1901 S. 12th Street on October 19 & 20. Sign up and pay for the Meet and Greet being held at the Hilton Garden Inn on Saturday, October 19 at 7:00 pm. The Meet and Greet is the place to eat and the cost is $22 pp and this will put you on the list to guarantee your purchase of a set (1a and 1b) of the cards for only $20! Visit with artists Jason Brower, Ted Dastick Jr., Joe Simko, Brent Engstrom at the Meet and Greet. To reserve: email [email protected]. Remaining cards will be sold at the show both Saturday and Sunday."
Those attending the show will want to reserve their spot now before they sell out.