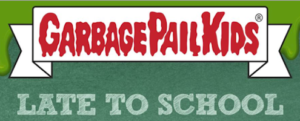 We are just under one week away from the release of the next retail set, 2020 Series 1 Garbage Pail Kids Late to School. Today Topps released the checklist to GPKNews and other hobby outlets. As advertised, the base set will come with 200 cards, (100 with a/b versions). Gone are the recent familiar subsets! The base set is listed as 1-100!
All the advertised insert sets are as expected. GPK Mascots found in Retail Display boxes contain 10 cards. Class Superlative found in Value Boxes also contain 10 cards. Faculty Lounge, which are found in Fat Packs, contain 20 cards. Wacky Package Parodies, which come 1 per Collector box has 10 cards. The School Pennant Patches contain 10 different patches inserted into Collector boxes. Finally don't forget there are 4 different lunchboxes, that are the actual Collector box!
Once again the same 4 final card artists return, and all have autographs in the set; Joe Simko, David Gross, Brent Engstrom, and Joe McWilliams. Finally the official sketch artist list contains only 41 artists, the lowest number of artists in years. You can find the official checklist for 2020 Series 1 Garbage Pail Kids Late to School in PDF form here.