Updated 1/20 – Article updated to add Fat Pack and Retail Display Odds.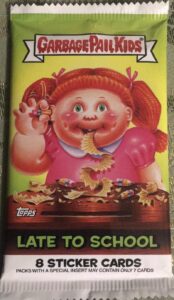 We are just under one week away from the official release date of 2020 Series 1 Garbage Pail Kids Late To School. That isn't stopping stores from releasing the product early. Thanks to collectors Eric Benton and Aaron Seidel for sending along pictures and info. These collectors found Value boxes at Meijer stores today. This is the first time Meijer has beaten Target to the punch. Topps has returned to the previous naming convention for the parallels as Fool's Gold and Phlegm Yellow are back after the blood splatter from 2019S2. It appears once again the odds on the parallels are overstated by double. It's still early, but each Value box has 1 yellow border card which makes them 1:5, not 1:10 as stated. It wouldn't surprise me to see all the parallels odds this same way as has been the case the last few GPK series from Topps. A quick look at the odds reveals some hits are slightly easier this time. Both Printing Plates and Artist Autos are a little easier to pull. Initially it looks like production might be slightly lower than 2019S2, but still higher than any previous series in years. Meanwhile sketch cards have even longer odds than 2019S2. Pano sketches and Loaded sketches will be very hard to come by once again. This is attributed to the lower number of sketch artists on this set.
I'll have my usual rundown of the production numbers in the coming days once all pack odds are in. In the meantime here are the odds for all retail pack types of 2020S1 GPK Late to School.
2020S1 GPK Late to School Value Pack/Box Odds
Phlegm Yellow 1:10
Fool's Gold 1:134
Printing Plate 1:2,295
Artist Autograph 1:259
Regular Sketch 1:371
Panoramic Sketch 1:4,519
Loaded Puzzle Sketch 1:229 (Value Boxes)
2020S1 GPK Late to School Fat Pack Retail Odds
Fool's Gold 1:45
Printing Plate 1:758
Artist Autograph 1:87
Regular Sketch 1:124
2020S1 GPK Late to School Retail Display Odds
Fool's Gold 1:134
Printing Plate 1:2,318
Artist Autograph 1:260
GPK Mascots 1:3
Regular Sketch 1:371