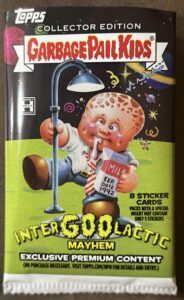 Be honest, who had to clear cards from their dining table to eat Thanksgiving dinner? With the holiday release of 2023 Series 2 Garbage Pail Kids InterGoolatic Mayhem, Topps remains on schedule with their retail GPK sets. However, there are many changes for collectors this time around. For reasons GPKNews have been unable to confirm, Topps did not make Blaster or Retail Display boxes of this set. Therefore, no big box retailers, like Target or Walmart, will sell packs. This eliminates the casual collector from finding them, and makes it slightly more difficult for longtime collectors to obtain product. What hasn't changed are the artists. All four main artists return, David Gross, Joe Simko, Brent Engstrom, and Joe McWilliams, and did all the final card art for the base set. Original Series artist Tom Bunk joined those four with artwork on insert sets. The base set contains 200 cards, 100 new pieces with a/b versions. The  odds on the website appear to be correct for the most part, based on early case breaks. For some reason Topps did list Green and Black parallels as 1:2 packs for Hobby and Collector respectively. That is incorrect, as both parallels fall 1 per pack. Also both the 3D Morph cards and Loaded Puzzle sketches have odds listed as per pack, but both are box toppers. Production is down significantly from previous retail sets. This appears to be the lowest printed set since 2020. I'll have a complete breakdown of production numbers in the next few days.
With only Collector and Hobby boxes, Topps had to make a few changes. Loaded Puzzle sketches moved to Hobby boxes, while Panoramic sketches can be found in both pack types. Artists autos are once again /75, but there are now also Fool's Gold (Yellow) autos /50, and Foilfractor autos 1/1. The checklist shows autos for A & B cards, but that's not the case as there is one auto per artwork. There are also artist autos for the Time Warp insert set. Since there's no Blasters, yellow parallels are not in the set. Finally, Collector boxes have a number of exclusive insert sets, and Patch cards have multiple parallels.
I will have articles in the coming days looking at production numbers in more detail. To see the official Topps checklist click here. For now, here is what you can find, and where you can find it in 2023 Series 2 Garbage Pail Kids InterGoolatic Mayhem.
(Note: I will continue to update this post as new information comes to light and any new parallels/inserts are found.)
Base Set – 100a/b (200 Cards).
Parallel Sets – Same exact cards from the Base set, except with a different speckled color border.

Black Hole Black Border (Collector) – 1:1 (200 Cards)
Galaxy Blue Border /99 (Hobby) – 1:22 (200 Cards)
Supernova Red Border /75 (Collector) – 1:31 (200 Cards)
Fool's Gold Border /50 (Collector/Hobby) – 1:91 (200 Cards)
Booger Green Border (Hobby) – 1:1 (200 Cards)
Moon Rock Gray Border /199 (Collector/Hobby) – 1:23 (200 Cards)
Printing Plates –1:1,220 (Collector), 1:26,577 (Hobby) (400 total – 4 per artwork)
Insert Sets – All the various insert subsets that can be found in packs.

Wacky Packages Planetary Provisions – 1:24 – Collector (8 cards)
Space Farce – 1:3 – Collector/Hobby (5a/b – 10 Cards)
Time Warp –1:3 – Collector/Hobby (10a/b – 20 cards)
Kosmic Krashers – 1:24 – Collector (5 Cards)
3D Morph Cards – 1 Per Collector Box Topper (4 Cards)
GPK Parch Card /199 – 1:235 – Collector (5a/b – 10 Cards)
GPK Parch Card Blue /99 – 1:471 – Collector (5a/b – 10 Cards)
GPK Parch Card Red /75 – 1:622 – Collector (5a/b – 10 Cards)
GPK Parch Card Gold /50 – 1:932 – Collector (5a/b – 10 Cards)
GPK Parch Card Foilfractor 1/1 – 1:44,636 – Collector (5a/b – 10 Cards)
Artist Autograph /75 – 1:65 Collector, 1:1,377 Hobby,  (100 Total Cards – 1 per card artwork)
Fool's Gold (Yellow) Artist Autograph /50 – 1:87 Collector, 1:2,065 Hobby,  (100 Total Cards – 1 per card artwork)
Foilfractor Artist Autograph 1/1 – 1:1,056 Collector, 1:106,308 Hobby,  (100 Total Cards – 1 per card artwork)
Time Warp Artist Autograph /50 – 1:973 Collector, 1:20,250 Hobby  (10a/b 20 Total Cards)
Sketch Card – 1:138 Hobby (69 Artists)
Panoramic Sketch Card – 1:422 Collector, 1:30,374 Hobby (69 Artists)
Loaded Puzzle Sketch Card – 1:79 Hobby Boxes (69 Artists)
Shaped Sketch – 1:282 – Collector (69 Artists)
Triptych Sketch – 1:1,884 – Collector (69 Artists)