Last year's Oh the Horror-ible set was largely well received by collectors. So much so, that the second retail set of 2019 will once again feature the horror theme. Today, Topps announced 2019 Series 2 Garbage Pail Kids Revenge of Oh, the Horror-ible. The artists had so many fantastic gags left over from last year's set, they were primed and ready to paint an entire set this time featuring only horror themed cards. The set's theme isn't the only former idea being used in this set.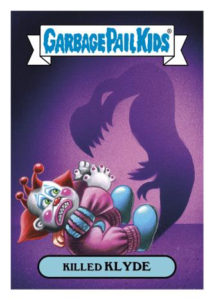 This is the first set completely under the direction of Topps Brand Manager Jessica Kanzer, who replaced Colin Walton last year. David Gross and his fellow artists pushed Topps for a number of changes collectors have been asking for over the years. In the end some changes were implemented, while others will have to wait for future sets. Cards will once again feature a similar themed subset approach as previous sets with card numbers appearing on the backs. One big change for collectors is the pairing down of final art artists in the set. While the sell sheet doesn't specify who is completing final art, sources say only Brent Engstrom, Joe Simko, David Gross, and Smokin' Joe McWilliams will have art featured in the set.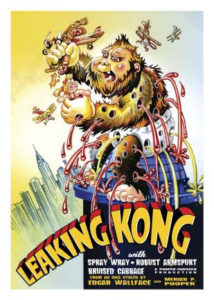 According to the sell sheet the new set will feature 200 base cards, made up of 100 pieces of new artwork available in a/b versions. While the familiar parallel format returns for the most part, the names have changed. All Hobby and Retail packs will contain one Blood Splatter Green parallel. Blood Splatter Gold parallels will once again be numbered /50, and are available in all pack types. Blood Splatter Blue /99, and Blood Splatter Red /75 parallels will only appear in Collector packs. The former Black Bruised parallels have changed to the brand new Black Light parallel found 1 per Collector pack. Hobby Boxes will once again contain the Trick or Treats insert set. While, Collector packs will contain an insert set called Horror Film Poster Parodies. These are Wacky Packages inspired parodies of famous horror films. Most likely these will fall one per Collector Box.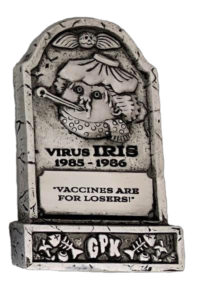 Artist autographs and printing plates will continue to be found in all pack types. Hobby and Retail packs will have regular sketches inserted. Collector boxes once again will feature, either a shaped sketch, artist auto, or printing plate. The three panel foldout Tryptych sketches will return again and be found in Collector packs. Collector boxes will also now feature a brand new Tombstone Figurine. Coming 1 per box, there are 12 total to collect. These measure 3″ x 1 7/8″ and will be inserted in blind box packaging according to the sell sheet.
While there are some positive changes with the new set, many more will have to wait for future sets. Once we get retail sell sheet info, I will pass it along. For now you can see the sell sheet here in PDF form, or check out the pictures below. 2019S2 GPK Revenge of Oh, the Horror-ible is set to hit stores on Sept. 25, 2019.