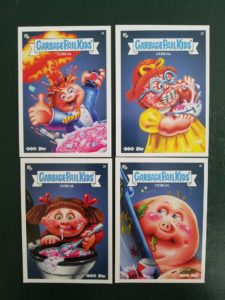 After their launch of a Garbage Pail Kids themed energy drink a few weeks ago, FYE has bigger things in store. Details have slowly been coming out over the past few days regarding a number of new items FYE is planning on officially launching on Monday. Officially licensed cereal, candy bars, and a new t-shirt are the latest items that have surfaced. Fans can expect to find these items in FYE stores and online at FYE.com beginning Monday, 5/13.
Garbage Pail Kids Cereal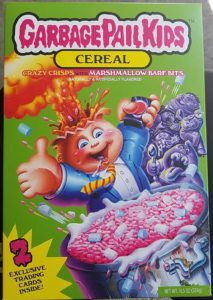 Collectors will find all new artwork surrounding the entire box from GPK artist Joe Simko. While Adam Bomb is the highlighted character, numerous characters can be found on all the panels. The back of the box even features some games like many children's cereal boxes do. Advertised as "Crazy Crisps with Marshmallow Barf Bits", the cereal looks like pink Rice Krispies with some Lucky Charms marshmallows mixed in. The box also advertised 2 trading cards inside. Each box comes with two different stickers. There are a total of 4 stickers in the set. Each card features a different classic character with their cereal. There are no nameplates on the fronts, however the cards are numbered 1f-4f. Both the Topps logo and the FYE logo also appear on the fronts. The backs of the cards when combined form a puzzle of the main front box artwork. Some collectors have found boxes in their FYE stores already. Many have to ask a manager to sell it to them early. Collectors are saying each box of cereal is $12 in store. Thanks to GPK collector Joshua Taylor for the pictures. Check out the end of the article for pictures of the cards, and all box panels.
Garbage Pail Kids Candy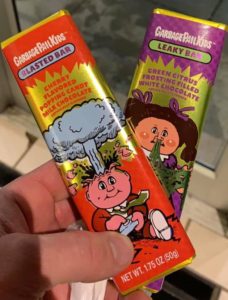 Also launching on Monday are two GPK candy bars. The Blasted Bar which is advertised as a cherry flavored poping candy milk chocolate bar features Adam Bomb artwork. The candy itself is chocolate with candies mixed in. The Leaky Bar is a green citrus frosting filled white chocolate bar. This one is a green colored white chocolate, hollow inside, and filled with a green frosting. As with the cereal some FYE stores have the candy bars available early. The bars retail for $2.99 in the store. Thanks for Steve Sodergren for the candy pictures.
Garbage Pail Kids T-shirt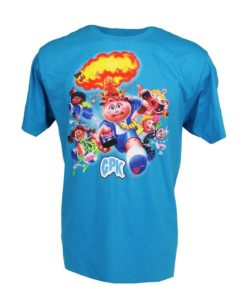 A new licensed t-shit featuring brand new artwork by Joe Simko will also be launching soon. This light blue t-shirt is again highlighted by Adam Bomb, but features some other classic characters. The shirt will be available is sizes S-2XL and will retail for $21.99. There is a link on fye.com for the shirt already, and the 2XL size is available to order early. FYE stores should also be getting the shirts beginning next week.