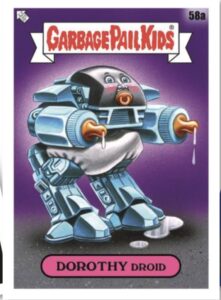 In the worst kept secret in the hobby, Topps today announced 2023 Series 2 Garbage Pail Kids Intergoolatic Mayhem. In its newest tradition, the announcement of the set comes just 4 weeks before the release date. The set features a space and sci-fi theme. There are no total number of base cards mentioned on the sell sheet, but collectors can expect 200 base cards, 100 new pieces with a/b version. All artwork for the set was done by Joe Simko, Brent Engstrom, David Gross, and Joe McWilliams.
Collectors will once again find many of the same parallels; Booger Green (Retail Display), Black Hole (Collector), Moonrock Gray /199, Galaxy Blue /99 (Retail Display), Supernova Red /75 (Collector), Fool's Gold /50, and Printing Plates 1/1. The set will feature autograph cards from all the artists /50. In addition, brand new Foilfractor 1/1 autos can be found in packs! There will also be numerous insert cards that can be found in packs. The Time Warp insert set features new characters traveling through time, the sheet doesn't mention which pack type these will be available, but they also include autograph versions. The Space Force insert set was done by Tom Bunk, and again doesn't say which pack type they will be found in. Collector boxes will exclusively have Kosmic Krashers and Wacky Packages Planetary Provisions. Patch cards will once again make an appearance in Collectors. They can be found in Blue /99, Red /75, Gold /50, and Foilfractor 1/1. 3D cards also make a return to GPK and will also be a Collector box exclusive. Finally, sketch cards can be found in all pack types as follows, Regular (Retail Display), Puzzle (Retail Display), Shaped (Collector), Triptych (Collector), Panoramic (Not listed).
You can view the sell sheets below or the PDF can be found here. 2023 Series 2 Garbage Pail Kids Intergoolatic Mayhem releases in time for turkey day, 11/22/2023.