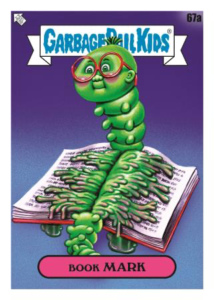 It won't be until summer is in full swing, but GPK collectors will be able to get in a good book this year! Today Topps announced 2022 Series 1 Garbage Pail Kids Book Worms. Once again collectors will get a 200 card base set, featuring 100 new pieces available in a/b versions. The theme of the set will be all about reading; comics, books, poems, and literature. All the usual parallels are returning, collector boxes will exclusively have 1 Inkwell Black parallel per pack, and Red Herring /75. Retail Display boxes will have 1 Booger Green parallel per pack, and exclusively Sleep Drool Blue parallels /99. A new parallel, Moby Dick Grey /199, along with Fool's Gold /50, printing plates, and artist autos can be found throughout all pack types.
There will of course be plenty of inserts to collect. Original Series artist, Tom Bunk will return once again with an insert set called Authors of Their Own Misfortune. These will be found on in Retail Display boxes, 1:3 packs. Wacky Package Prose inserts will be 1 per Collector box only. Finally, Book Marked! will also fall 1 per Collector box. Those are goofy and gross "Keep Reading" slogans. Patch cards are returning to Collector boxes, but this time there are parallels. Collectors can find a Base /199, Blue /99, Red /75, Gold /50, or FoilFactor 1/1 for each patch. Popular Shaped sketch cards along with Triptych sketches will once again be found only in Collector boxes, while regular sized sketches will be found in Retail Display boxes. Finally, each Collector box is advertised to come with one GPK iron-on patch.
2022S1 GPK Book Worms is scheduled to hit stores shelves July 27, 2022.  You can view the sell sheets below or they can be found in PDF form here, or in the pictures below.