That didn't take long, just after the Hobby sell sheet began making the rounds this morning, the retail sell sheet for the next retail GPK set is out. 2019 Series 2 Garbage Pail Kids Revenge of Oh the Horror-ible is a sequel based off of last year's successful Horror themed set. 2018S2 Oh the Horror-ible was one of the most successful selling GPK sets in recent memory for Topps. The artists still had plenty of gags and ideas that were not used from the last series, so this Halloween season will feature another round of horror themed cards. A number of changes are being made to the set compared to the last one. What's not changing is the number of base cards. The set is scheduled for 200 base cards made up of 100 new pieces of artwork with a/b name versions.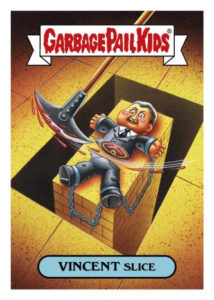 It would appear the final nail in the coffin has been made to gravity feed boxes. Once again they are not being offered to retail partners. Topps also didn't make the Dollar Store feeds for the last set, We Hate the 90's. It would appear the popular with collector boxes are now a thing of the past. However, there will still be plenty of retail options. The regular retail display 24 pack box will return once again. These are marketed and sold by Topps to both retail partners and hobby distributors. While some places still call them Hobby Boxes, they are the same exact box as a retail display box. As with all retail pack types, the renamed Blood Splatter Green parallels will come one per retail pack. Blood Splatter Gold parallels numbered out of /50 can be found in all pack types. While Artist Autographs, Printing Plates, and regular Sketches will also be randomly inserted in all retail pack types. Blood Splatter Yellow borders parallels are scheduled to return to display boxes for this set. They are advertised to be inserted at 1:4 packs, like the previous set. Display boxes is also where you will be able to find the Trick or Treats insert set. While GPKNews hasn't been able to confirm, GoGTS is reporting that a case of Value Boxes will contain 40 boxes this time! This would be up dramatically from the 16 boxes they have been in the past.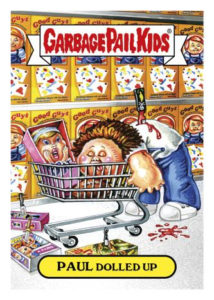 Value Boxes, formerly referred to as Blaster Boxes, are back once again. This time with a major change. Gone are Bathroom Buddies and Gross Bears. For years now these boxes contained reprints from these past Topps sets. Collectors have grown tired of the inserts, which bore little to no resemblance to GPKs. A brand new insert called GPK Horror Victims will be taking their place. Each box will received 3 GPK Horror Victim cards. These, "bonus cards", are described as GPK characters meeting their untimely end. Once again, Loaded Sketches will be randomly inserted into Value Boxes.
Fat Packs are back and have a familiar structure. Each Fat Pack will come with 2 Green parallels and 1 of the returning Blood Splatter Purple parallels. The OS reprints will also return to Fat Packs. Each pack is scheduled to receive 2 Classic Monster insert cards. Panoramic sketches will also be inserted into Fat Packs.
To view the Retail sell sheet as a PDF click here, or check out the pictures below. 2019 Series 2 Garbage Pail Kids Revenge of Oh the Horror-ible is set to release Sept. 25, 2019.