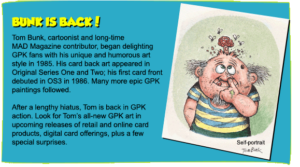 Topps today begin advertising all the upcoming officially licensed Garbage Pail Kids merchandise planned through the summer. And boy is there a lot! Perhaps the highlight of the announcements is the return of Tom Bunk to Garbage Pail Kids cards. Topps says the Bunk will be doing art for upcoming online and retail sets.
Topps also focused on their merchandise. Many items shared are already available or know about. However there were some new info. In addition to the recently launched Orange Soda, FYE will be launching two new candy bars, the Cotton Candy bar and the Drippy Skippy bar. On the GPK x Madballs partnership it appears the Mishka launch will include hats and sweatshirts as well. A brand new product, Adam Bomb golf club covers will be offered by Swag Gold starting on 6/3. Finally the last bit of new news is the next installment of Max Max Fury Road is coming in June.
Check out this link for all the info on the upcoming products from Topps.