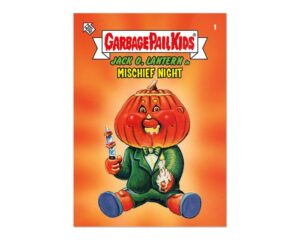 GPK collectors love their Halloween themed cards. This past week's themed set was no exception. After ended earlier today, Topps revealed the print run for 2020 Garbage Pail kids Halloween Stories. Topps sold a total of 2,099 packs of the themed set. While, not as successful as the previous Untold Stories set, this set still sold really well. Despite there only being 63 total sketches inserted into the run, collectors still bought a large number of packs. Based on the print run here are how many possible sets there will be to make:
Sets – 2099 Sold x 10 cards per pack = 20990 total cards / 63 in set = 333 total sets
Cover Insert Set – 2099 Sold x 1 per pack = 2099 / 5 in set = 419 total sets
Chance at Stories Sketch 2099 Sold / 63 total sketches = 1:33 packs sold
There won't be a ton of complete sets floating around, and sketches will certainly be a challenge on this one. Topps is planning two more holiday themed sets for the remainder of 2020, most likely a Thanksgiving and Christmas themed set.